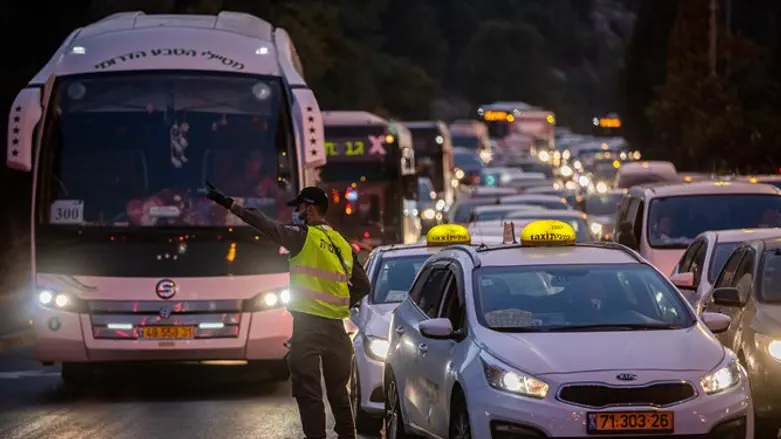 Lockdown restrictions: Necessary?
Flash 90
Physicist, expert in models and algorithm inspection, and consultant in the field of biomedicine Dr. Uri Gavish is a member of a group of 150 physicians and researchers who called on the government to refrain from imposing a lockdown and to adopt a new strategy to combat coronavirus, "based on experts who did not make mistakes in all their predictions from the very first moment."
Dr. Gavish told Arutz Sheva that the experts who inform and advise the Prime Minister and National Security Council have a "dangerously poor" track record when it comes to making predictions about the pandemic's evolution. Weitzmann Institute's Professor Eli Waxman, who heads the team of experts advising the Prime Minister and National Security Council on COVID-19, predicted on July 17th that within one week, that is, by July 24th, 40 new ventilator patients will begin to accumulate in intensive care wards every day, and about 600 intensive care patients requiring ventilator would accumulate by August 7th, with about 900 such patients needing ventilator by August 15th.
"There were 58 patients on ventilator the day Waxman spoke," explained Gavish. "That is to say, Waxman predicted an increase of about 840 patients on ventilator within 3 weeks.
"In reality, on August 15th there were 116 patients on ventilator, ie. there was actually an increase of 58 ventilated patients, beyond the 58 already on ventilator the day Waxman spoke."
Dr. Gavish continues: "Waxman managed to err by a factor of 14 in his prediction involving a span of only three weeks. It should be noted that the mistake is actually much greater because Waxman referred to intensive care unit ventilators and not internal medicine ventilator patients."
"I want to stress these are his recent errors; he made many more at the beginning of the crisis," Dr. Gavish adds. "More urgent and relevant are his latest errors, as the main error is his prediction that even if we lower the epidemic curve by imposing restrictions and lockdowns, and in that way we keep hospitals functioning properly and achieve enough immunity depth in Israel to enable the pandemic to naturally decline, their team predicted Israel will suffer 45,000 deaths, with a 'bonus' of about 200,000 people needing ventilator, and with long-term side effects."
Arutz Sheva has verified Dr. Gavish's claims regarding Prof. Waxman's statements.