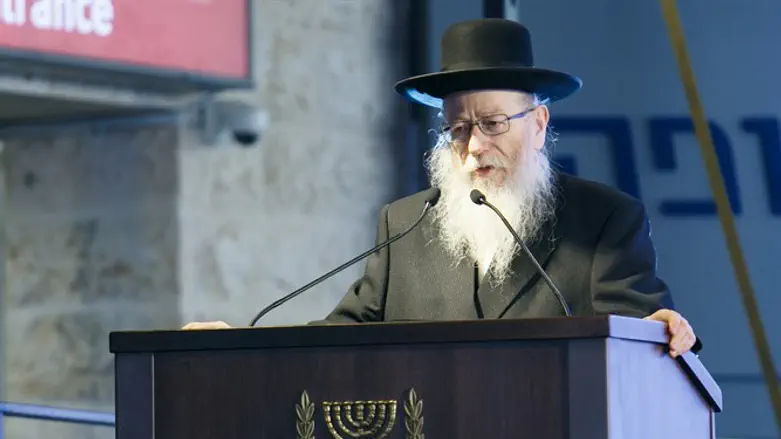 Litzman
Flash 90
Following the Cabinet's decision to adopt coronavirus czar Prof. Ronni Gamzu's recommendation to impose a full closure over the holidays, Construction and Housing Minister Yaakov Litzman announced his resignation as a minister in the government.
In a letter to PM Netanyahu announcing the move, Litzman wrote: "For about a month now, while we have been dealing with the morbidity data in Israel, I warned repeatedly in the face of the intention in advance by Corona Czar Prof. Ronni Gamzu to impose a full closure on Rosh Hashanah and Yom Kippur, which will prevent hundreds of thousands of Jews from all populations and sectors from praying in synagogue."
"This is a serious decision, Mr. Prime Minister, that will significantly dilute and reduce the number of people coming to synagogues on Rosh Hashanah and Yom Kippur, especially tens of thousands of Jews, from a variety of different populations, some for whom this is the only time during the year that they are accustomed to coming to pray at synagogue.
"I repeated my warning and forcefully expressed opposition to a full closure specifically during the holidays in every forum, in the corona cabinet, in government meetings, in talks with you and other cabinet members, and with the media. I emphasized that if a full closure is indeed needed, we should not wait with the increase in morbidity data at this rate, and that it should be decided upon then, a month ago, two weeks ago and not on the holidays," Litzman added.
"Corona Czar Prof. Ronni Ramzu constantly denied and explained to me that this was not the intention. Unfortunately, it was proven that I was right and that the decision to close completely on the holidays was marked in advance, amid unnecessary risk and an increase in morbidity over time. In addition, it became clear that the agreement over synagogues was violated and that the decision to impose a full closure will not allow the synagogues to operate on holidays according to the Numa outline, contrary to what is clearly agreed to between us. Therefore, I will not be able to continue as a minister and I decided to resign from the government and return to serve as a Knesset member under the Norwegian law."
Litzman said that " For a month now I have been hearing about the plans to close the country on holidays and I have warned all along that this is an injustice and contempt for hundreds of thousands of citizens, haredim, religious and traditional. If a full closure is to be made, where have you been so far? Why have Israeli holidays become a convenient address for Corona care despite the severe suffering of the public. "
"I see as a significant violation of values the fact that Israeli holidays have become something that can be harmed, in advance, compared to other areas such as mass demonstrations, the vacation season in July-August, etc. It is unfortunate that the holiday closure was planned and marked in advance by the corona czar amid a lack of appreciation for the Jewish holidays," Litzman concluded.