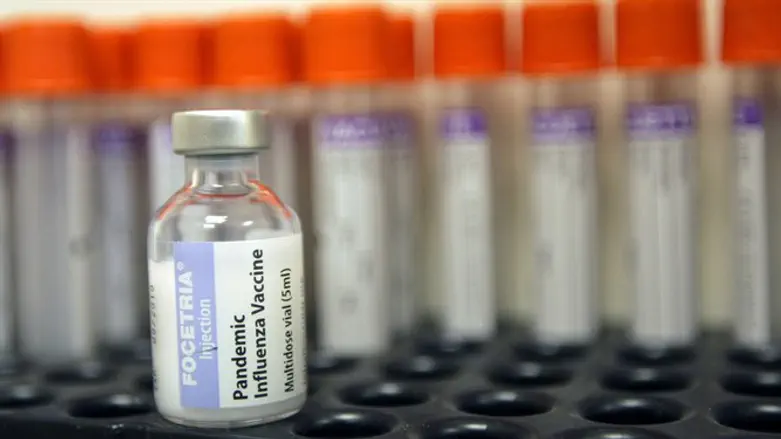 Influenza vaccinations
Photo by Kobi Gideon / FLASH90
Israel may receive its shipment of flu vaccinations only at the end of October, approximately one month after they usually arrive, Israel Hayom reported.
According to Israel Hayom, the delay may mean that flu season begins when most people have not yet managed to receive the vaccinations or develop immunity.
In addition, symptoms of flu are similar to those of coronavirus, so late vaccines may make it more difficult to differentiate and cause a delay in the treatment of COVID-19 and flu patients who require it.
Clalit's Kalanit Kaye, who is responsible for their preparation of the health fund's flu vaccine campaign, said, "We want to move things up and vaccinate the population, but as of this moment, we have received a notification that the vaccinations will only arrive at the end of October. However, the entire system is being enlisted in order to move up the date we receive the vaccines."
"Usually, we begin vaccinations between the end of September and the beginning of October. Last year as well, we began late. We want to time the vaccinations with winter. But this year, in light of the fact that there is coronavirus, there is a greater interest and we need to think about how we can respond appropriately. Obviously, we cannot begin to vaccinate early if the vaccinations do not arrive.
"We are making great efforts [in our contact with] various manufacturers around the world, in order to receive every vaccination possible."
She added, "We are defining our target populations for vaccination. In light of the fact that we are at the height of a second wave of coronavirus and there are predictions of additional waves and a difficult winter, we are preparing for situations in which the Health Ministry tells us that if the coronavirus infections mix with the the flu infections, we will be in a place that makes it difficult to provide for the entire population."