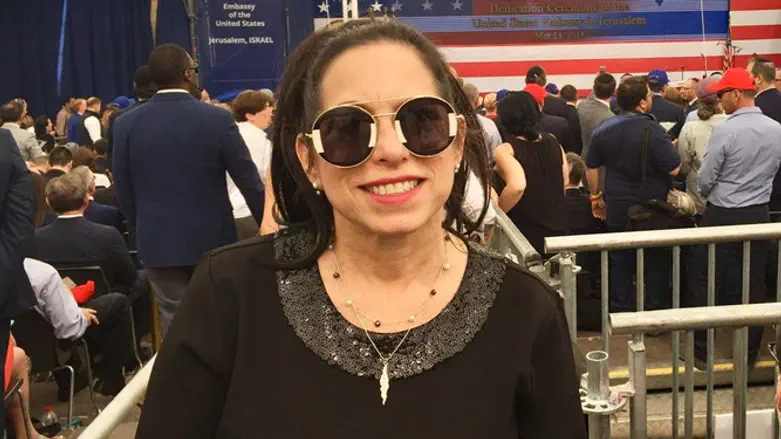 Cindy Grosz
Courtesy of Cindy Grosz
"Cindy is a one-issue candidate," Tuman said of Grosz. "She's an activist for the Jewish community."
That was the very first response in the first print interview last May from Douglas Tuman, the winner of the Republican primary in New York's fourth congressional District in which I was the opposing candidate.
Now, I am asked if I am going to help Tuman campaign, as a Republican and a Jew.
In a world where Nick Cannon, DeSean Jackson, Mel Gibson and many others are getting international attention for their anti-Semitic remarks, how different is this statement?
Imagine if I were black or gay, CNN would have had headlines and Al Sharpton would have arranged a press conference in front of a newly painted yellow Black Lives Matter either in DC or NYC.
Who doesn't forget the Town Hall moment when then presidential candidate, John McCain, defended his opponent?
We, as Jews have another obligation as well. We must call out antisemitic words and actions early on. We have to be more diligent everywhere, but for many of my followers, you look at New York for Jewish leadership outside of Israel.
And in one generation, New York went from being the home of The Catskills and Borscht Belt to the place where Jews are no longer welcome.
Just one generation before this, we had a Mayor, Edward Koch, who chose these words for his tombstone when he died, "Hear O Israel, the Lord our God, the Lord is One." and the last words of journalist Daniel Pearl before he was murdered by terrorists in 2002: "My father is Jewish. My mother is Jewish. I am Jewish."
Now, we have a mayor, Bill De Blasio, who singles out Jews in tweets and actions without suffering disciplinary actions.
Republicans had their own controversy last spring when the Rockland County GOP released an antisemitic video blaming Jews living there for overcrowding. In 2017, the same GOP was accused of antisemitism over a social media post.
Who is going to be the newly elected Congressional Representative from this neighborhood because Congresswoman Nita Lowry is retiring? The first gay, black socialist man, Mondaire Jones, who is more progressive than AOC. Do you think he is going to be fighting for Israel, against BDS and calling out the Squad in Congress? Doubtful.
And, we can add at least one, possibly two, other progressive new congressional representatives who are poised to win in November. Jamaal Bowman, replacing Eliot Engel, and on Long Island there is a possibility that Jackie Gordon will win the Peter King Seat.
How did Fifth Avenue, the site of the largest parade to salute the Jewish State, become a street where Israeli flags are burned?

Where did we go wrong?
How did Fifth Avenue, once the home and hopefully again after COVID-19, the site of the largest parade to salute the state of Israel, become a street where Israeli flags are burned?
Were we so complacent? Are we so insecure to want to help others without helping ourselves first?
How do we stop this before we have another Holocaust—while there still are a few living survivors from the horrors of Nazi Germany? Ask many of them and they often compare times today to their past. We often forget that European Jews thrived in Europe for a longer period in history than New York Jews have had.
This didn't start overnight. And it isn't President Donald Trump. He has done more for Israel than any other commander-in-chief. Before he was president, he gave donations to all those Democrats that now want him impeached and gone. And Trump left New York.
Which leads me back to my primary race. My opponent made multiple comments implying that he couldn't support Trump totally. This is the same kind of rhetoric that Mitt Romney used when selling himself as first a possible cabinet member and then as a senatorial candidate seeking President Trump's endorsement. We all now know how that turned out.
My opponent and his supporters will call me a sore loser. I feel just the opposite. The night before the election, I visited the Ohel and left a note by the Rebbe and one at the grave of Rebbitzen Chaya Mushka. Apparently, there is going to be a different path for me to help my people.
Followers wrote on his social media the term he used, "One issue, Jewish," as if this label was bad.I wear it with pride. I wore it before I was a candidate and I will die with it.
Funny, many Democrats claim to wear it, but their votes in Congress prove otherwise. Their silence on "The Squad" is the same silence of American Jews supporting FDR while extended family members were being murdered for no other reason than having one issue—being a Jew. Bernie Sanders, Adam Schiff, Chuck Schumer, Eliot Engel, Jerry Nadler, Debbie Wasserman Schultz and every Democratic Jew (or someone considered a Jew) who voted for not applying sovereignty or having further discussions sanctioning BDS actually proves otherwise.
I consider my campaign a success. I was able to educate Jews in my district to vote in a primary, volunteer and even donate money for the very first time.
Opportunities are coming my way, which means my Jewish activism is far from over.
And, I brought attention to the fact that Congresswoman Kathleen Rice voted against bringing discussions to bring further sanctions to companies promoting BDS in March. Now, worried about losing Jewish donors and votes, she was one of a handful of Democrats that voted to apply Israeli sovereignty in Judea and Samaria this past spring.
Tuman is going to lose in November (the last opponent only raised $50,000 and got around 30% of the vote), and he will be an insignificant piece of a puzzle relating to antisemitism, But Jews have much more to lose if we don't stop the smaller words and actions of antisemitism in all political parties, all areas of entertainment and in every aspect of our lives.
Cindy Grosz was the Republican and Conservative congressional candidates running in NY-04, She is a longtime activist for many causes and an Advisor for the National Diversity Coalition for Trump. . [email protected]