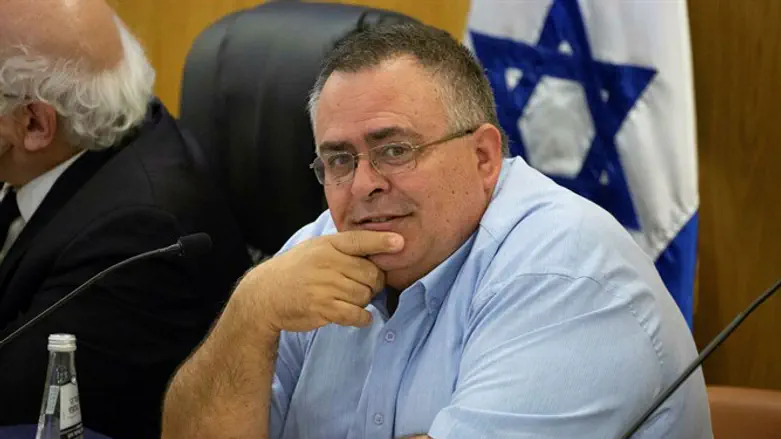 David Bitan
Esti Dziobov/TPS
Knesset Absorption Committee Chairman Likud MK David Bitan attacked Prime Minister Binyamin Netanyahu and Coalition Chairman MK Miki Zohar ahead of next week's World Likud Movement elections, that will be held next week at World Likud branches abroad.
"To my great consternation, the Likud has reached a new low," Bitan wrote on Twitter: "Netanyahu and Miki Zohar are pressuring Yaakov Hagoel to betray his friends in the World Likud and the Jewish Agency, while conditioning the appointment of Danny Danon to another term of ambassador on whether he accedes to their request."
According to Bitan, Netanyahu and Zohar are demanding that Yaakov Hagoel, the current World Likud Chairman, withdraw his candidacy, even though he is expected to win a majority in the vote, to allow the victory of Miki Zohar, who is also running for the post.
Last Sunday, the first stage of the World Likud leadership election took place: in a Likud Central Committee vote, Zohar won 1,043 votes against 909 of Hagoel, but this represents 40% of the vote. The remaining 60% belong to the World Likud branches abroad, where, as stated, the vote will be held next week.
Hagoel said after the results were published: "I thank the many supporters who voted for me here at home, in Israel. I believe that together with the support of World Likud representatives, we will continue to work for the people of Israel and Eretz Yisrael, to realize the Zionist idea. The high turnout we saw today in the elections is an impressive demonstration of democracy in the greatest political movement in Israel, and I see the results as an expression of confidence in our work, both in the global Likud and in the national institutions."
MK Miki Zohar responded: "Thank G-d. I'd like to thank the members of the Central Committee for the amazing trust they placed in me; this is an amazing and unprecedented result, and with G-d's help I'll work in the national institutions in full force for the Land of Israel with the Nation of Israel and the Torah of Israel."