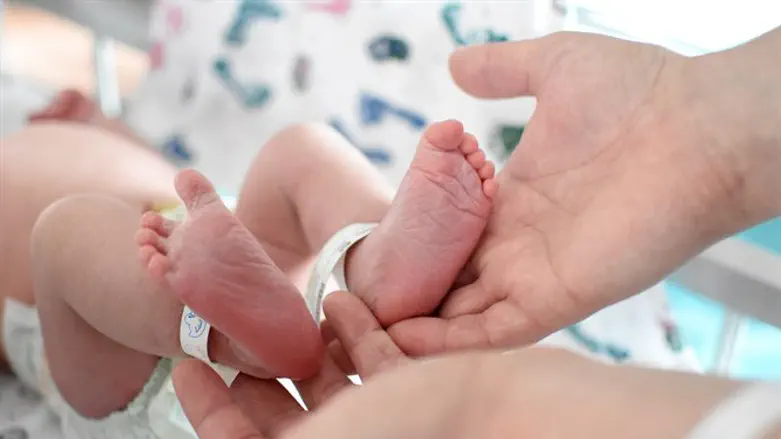 Baby in hospital
iStock
Doctors in France have reported what they believe to be the first confirmed case of a baby contracting coronavirus from the mother while still in the womb.
The case study was published in Nature Communications.
The 23-year-old mother was hospitalized at Antoine Béclère hospital in Paris on March 24 with coronavirus symptoms including fever and a severe cough. She is believed to have contracted the disease late in the third trimester of her pregnancy.
Doctors noticed signs of distress in the baby three days after the mother was admitted. The child was delivered via an emergency caesarean section and immediately isolated in a neonatal intensive care unit.
The newborn was found to be suffering from brain inflammation. Blood tests revealed that he was infected with the coronavirus. Further tests revealed that the virus passed from mother to child through the placenta.
There have been other cases of newborn babies becoming infected with the coronavirus. However, in most cases doctors have been unable to rule out the possibility that the children contracted the disease during or following delivery and not while in utero.
"Unfortunately there is no doubt about the transmission in this case," said Daniele De Luca, medical director of pediatrics and neonatal critical care at the Antoine Béclère. "Clinicians must be aware that this may happen. It's not common, that's for sure, but it may happen and it must be considered in the clinical workout."
"Pregnant women should be reassured," De Luca added. "Pregnancy is very controlled and if you have something like this, it can be controlled. In most cases there will be no damage to the baby. There are many things we can do, but we can't close our eyes and say this is never going to happen."
The baby's condition has improved greatly and he is expected to make a full recovery.