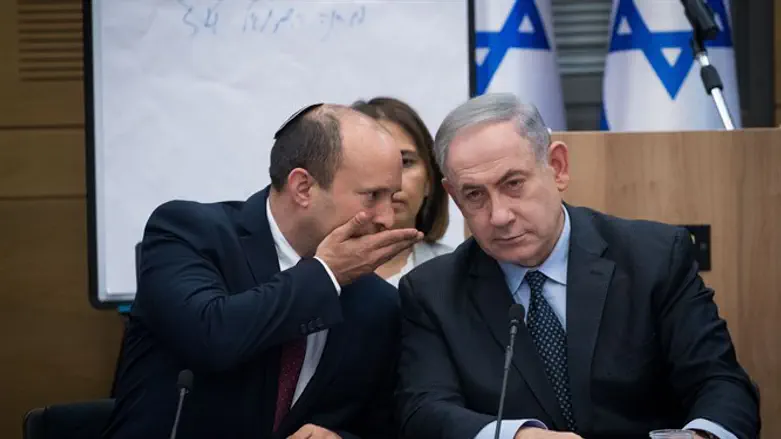 Bennett and Netanyahu
Yonatan Sindel/Flash90
Support for the Likud party has fallen significantly, a new poll shows.
With the government's approval rating for its handling of the coronavirus pandemic and resulting economic crisis falling significantly over the past month, a new poll by Panels Politics released Friday by Maariv shows the Likud falling from 41 seats in late May to 36 seats, the same number the party currently holds.
Yamina, by comparison, rose in the poll to 12 seats, from 9 seats in the May 27th poll and up from the six seats the party won in March. The right-wing Otzma Yehudit party did not cross the 3.25% electoral threshold in the poll.
Shas and United Torah Judaism hold steady at nine and seven seats respectively, while the secular-rightist Yisrael Beytenu rose to nine seats, from seven mandates in the March election.
The far-left Meretz party, which won three seats as part of a joint list with Labor and Gesher which won a total of seven seats in March, surged to seven seats in the poll.
Labor and Gesher both failed to clear the 3.25% electoral threshold in the poll, as did the Derech Eretz party, which split off from Telem, which ran with Blue and White in the last three elections.
Blue and White, which currently has 15 seats, would win just 10 seats if new elections were held today.
Its former electoral partner, Yesh Atid-Telem, would win 16 seats, maintaining its current strength.
The Joint Arab List would win 15 seats, the poll projected.