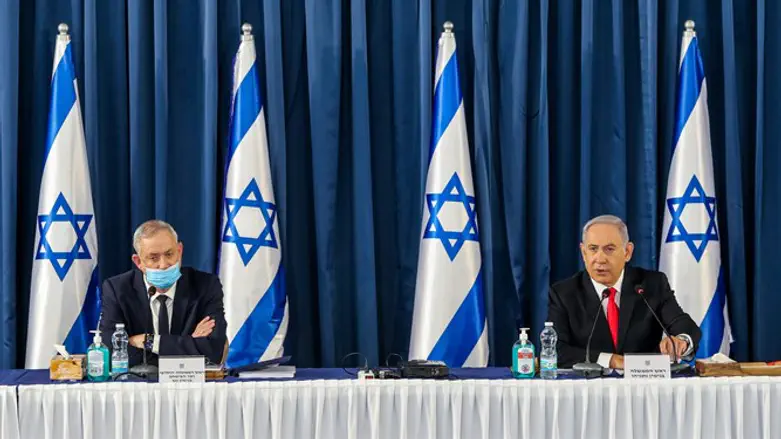 Netanyahu and Gantz
צילום: מארק ישראל סלם
A meeting of the Israeli government's Coronavirus Cabinet revealed possible cracks forming within the unity government, amid threats to dissolve the government and force the country back to new elections.
During the meeting Thursday night, Defense Minister and Alternate Prime Minister Benny Gantz (Blue and White) demanded that the responsibility for leading the government's efforts to contain the coronavirus pandemic be transferred to the Defense Ministry's Home Front command.
"The Home Front command is the system which was designed specifically for these kinds of situations, like the one we now find ourselves in," said Gantz. "Every operational matter should go to the Home Front command and the Defense Ministry. We need to move to a model of decision-making under which political decisions are made by the cabinet, the Health Ministry sets the regulations, and the Defense Ministry is the body serves as the executive body."
Gantz tweeted out his comments during the meeting to media outlets, drawing an angry response from Prime Minister Binyamin Netanyahu.
"I understand exactly what is going on here," Netanyahu said, while banging the gavel. "People are playing politics. If this continues, it can only lead to one thing," continued Netanyahu, threatening new elections.
Earlier this year, then-Defense Minister Naftali Bennett (Yamina) also demanded that operational control of the coronavirus containment efforts be transferred to the Defense Ministry. Netanyahu refused the demand.
After the Coronavirus Cabinet meeting, Netanyahu called government ministers together for a meeting at the Foreign Ministry office in Jerusalem. At the meeting, he is expected to asked ministers to approve new regulations limiting the number of people at events held in halls to 50 people, and to ban other mass gatherings of more than 20 people – including at synagogues.