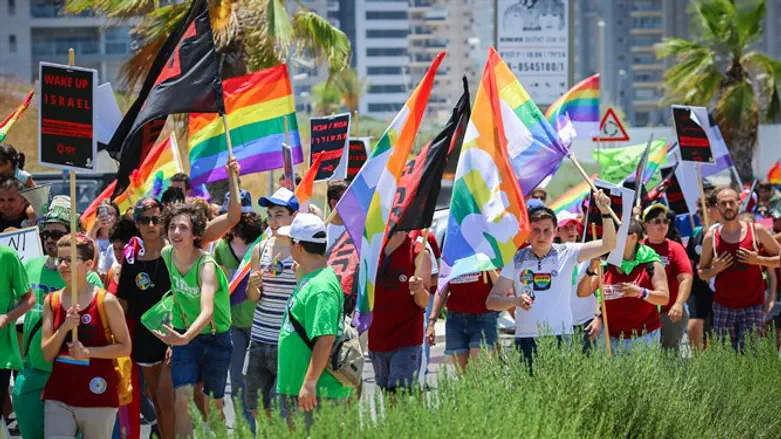 Gay pride event (archive)
Flash 90
Police in Jerusalem arrested three members of a right-wing group over concerns that they would disrupt an LGBT pride rally in the Israeli capital city, while dozens of other activists were detained by police.
Members of the Lehava organization had been instructed on how to blend in and infiltrate the gay pride rally Sunday in Jerusalem, according to reports in Israeli media.
Guidance to group members that circulated online Sunday showed that they had been told to wear colorful clothing, talk with their hands and use slang common among Israel's gay community.
The arrests came five years after a haredi man stabbed to death a marcher, Shira Banki, 16, who was attending the parade in support of her LGBT friends. Security at the march was significantly tightened after that attack.
This year's pride parades in Jerusalem and across Israel were canceled because of the coronavirus pandemic, but a smaller-scale, socially distanced gathering was planned instead. Some 1,200 police officers were tapped to protect the rally.
Among the Lehava activists arrested early on Sunday morning was Moshe Ben Zikri, who also was detained before last year's Pride parade and who for the prior two years dressed up as an LGBT activist and infiltrated the parade only to start haranguing attendees from the podium.
"Unfortunately, the Jerusalem Police have not grasped the principles of freedom of expression. We will ask the court to release Ben Zikri unconditionally," Ben Zikri's attorney, right-wing activist Itamar Ben Gvir, said in a statement. The three men were released Sunday afternoon.
In all, 27 right-wing activists were detained ahead of the Jerusalem rally.