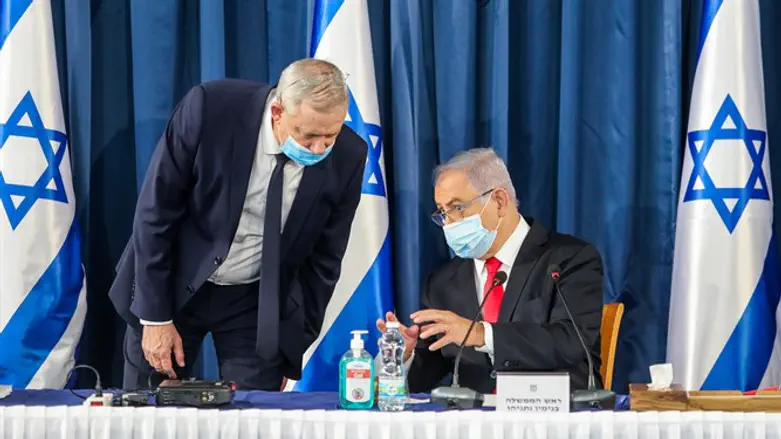 Netanyahu with Gantz
Photo by Marc Israel Sellem/POOL
Prime Minister Binyamin Netanyahu and his Likud party would easily win reelection if new elections were held today, a new poll released Sunday evening shows.
According to the poll, which was conducted by the Midgam polling agency and published by Channel 13, if new elections were held today, the Likud would win 38 seats, while alternate prime minister Benny Gantz's Blue and White party would receive just nine seats.
Currently, the Likud has 36 seats, while Blue and White has 16.
The poll marks a decline for both parties, however, over the last few weeks.
The previous Midgam poll, released on June 8th, showed the Likud with 40 seats, compared to 12 for Blue and White.
Yair Lapid's Yesh Atid party, running in an alliance with Moshe Yaalon's Telem faction would rise from its current 15 seats to 16, the poll found, while the Joint Arab List would rise from 15 seats to 16.
The rightist Yamina party, which won six seats in March, would win 11 seats if new elections were held today, three more than the eight it was projected to win earlier this month.
Among the haredi factions, Shas fell from nine seats to eight, while United Torah Judaism remained stable at seven seats.
The far-left Meretz party, which won three seats in March and was projected to double in strength earlier this month continued its rise, netting seven seats in the latest poll.
Yisrael Beytenu fell by one seat in comparison to the previous poll, falling from nine to eight seats. That still marks an increase over its performance in the last election, however, when the party received seven seats.
Labor, Derech Eretz – which broke away from Telem to join the coalition government – Gesher, and Otzma Yehudit, all failed to cross the 3.25% electoral threshold in the poll.
Broken down into blocs, the right-wing – haredi bloc is projected to win 64 seats, while the left-wing – Arab bloc would win 48 seats.