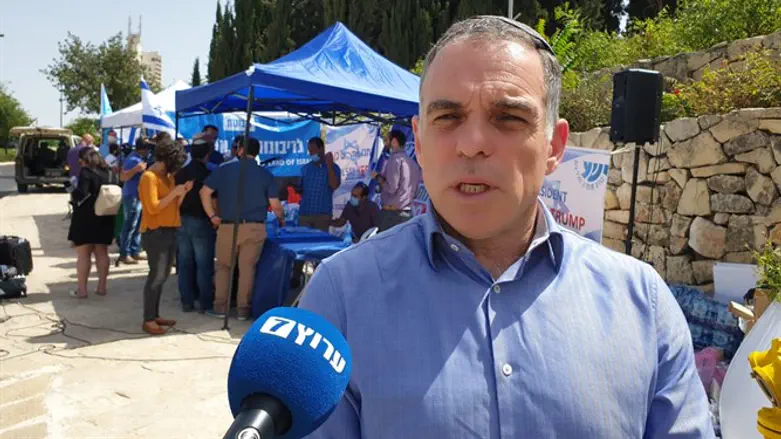 Oded Revivi,
Hezki Baruch
Oded Revivi, Mayor of the town of Efrat south of Jerusalem, slammed fellow settlement leader Yossi Dagan, head of the Samaritan local council, on Wednesday, over Dagan's warnings that Prime Minister Binyamin Netanyahu's sovereignty plan could split the Israeli Right.
Dagan, a critic of the Trump administration's Middle East peace plan, charged that Netanyahu's sovereignty plan, carried out within the framework of the Trump plan, could cause serious damage to the nationalist camp.
"A limited move to annex or leave isolated communities would cause damage to the national camp," said Dagan, ahead of meeting of top US officials to finalize the administration's decision whether to formally back Israeli sovereignty in parts of Judea and Samaria.
Revivi, who has expressed support for Netanyahu's bid to apply sovereignty over roughly 30% of Judea and Samaria, pushed back against Dagan's comments, calling them an "insult" to the settlement enterprise, adding that the strident opposition by some settlement leaders to the Trump plan could "endanger" the settlement movement.
"The idea that Israel's sovereignty plan could dismantle the nationalist camp is just another insult to the settlements," said Revivi.
"For decades, the settlement enterprise has sought recognition that the land in Judea and Samaria is rooted in Jewish tradition and history. For years, we have asked that no one be uprooted from his or her home."
"In the past, we have asked to apply Israeli law first in Ma'ale Adumim, then in Gush Etzion, and then in other settlement blocs. When the Vision for Peace sought to apply sovereignty in over 30% of Judea and Samaria, there were those who protested and issued threats. Thanks to them, the percentages will probably decrease, and yet they are still threatening. We, too, are confused!" he stated.

"Don't spread fears about the nationalist camp. It is big and strong, and according to the polls, it also backs the adoption of the Vision for Peace [the Trump peace plan]. There are a few lone voices who are a threat to the advancement of our national goals and who endanger all that we stand to achieve."
"We welcome the application of Israeli law on every house, every street, and every settlement. It will not pose a threat to the nationalist camp. On the contrary, it will provide hope that we will one day be able to apply Israeli law even further. The time has come to take what is being offered, and not to let this opportunity pass us by again and again. We say yes to the plan. Yes on behalf of the settlements, say yes out of responsibility for the unity of Israel."