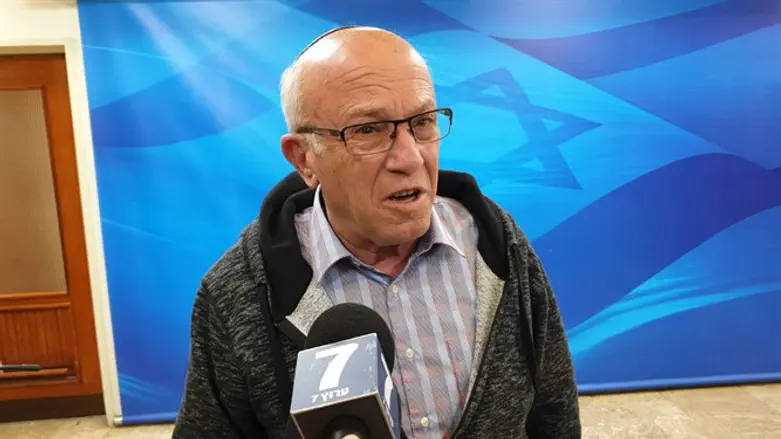 Wallerstein
Hezki Baruch
Pinchas Wallerstein, one of the leaders of settlement in Judea and Samaria for decades, announced his retirement from the position of Outpost Coordination Team head. Arutz Sheva spoke to him to find out why.
"Mostly because I felt in front of the State Attorney's office like Don Quixote in front of windmills," Wallerstein summarizes his feelings, adding that it has become so burdensome that he longs for the Supreme Court's response regarding Mitzpe Kramim, with the understanding that even the Supreme Court's decision would be better than the treatment by Deputy Legal Advisor Erez Kamenitz's staff and the State Attorney's Office.
"In my post I used the words of the prophet Jeremiah: 'They are wise for evildoing and how to bestow good they do not know.' The Legal Advisor stated there are about 3,000 houses that need to be arranged. These are houses built in existing communities and the Civil Administration's staff said this might not be State land, the question is whether what is known as "market regulation" applies here or not. The Court issued a clear directive that beyond the decision of the District Court in Mitzpe Kramim and more, construction done in good faith can be released by administrative procedure," explains Wallerstein.
The "market regulation" is a bylaw that allows compensation to be paid to an absentee landowner in the case that someone built on his land in good faith because he was given incorrect information about its owners.
To help understand how absurd it gets, Wallerstein explains that there are instances where the State itself is the one who built the houses and it is the one that sold them to the residents. "Could there be lack of good faith here? After all, the State sold him the house," Wallerstein says, saying this situation exists in countless towns and localities. In the community of Adam, for example, people leased the land for NIS 130,000 or NIS 180,000 for fifty years, "you cannot say the buyer isn't operating in good faith when the State leased the land to him."
As an example of the disputes that accompanied his work, Wallerstein presents one case of a family who broke up and sought to sell the house so the property could be divided between the couple, but they could not get permission for such a sale. "I didn't succeed with even a single house," Wallerstein describes his hard feelings in the face of the bullheadedness he encountered. "All my requests and motions for a procedure to release these houses went unanswered. The Civil Administration people did everything to help but we're unable to release these houses. Then what, to be able to say 'I'm Chairman of the Team', I should stay there?"
Wallerstein says his requests were repeatedly rejected with various arguments and pretexts; once it was wait for after the election and sometimes for other reasons, but the bottom line seems to be that nothing is going forward. "I came to the conclusion that I'm accustomed to working with idealistic people: the settlers, the Negev and Galilee residents; people who very much wanted to help and I had fun working with them. Today, to just stay that way and feel that I'm unable to release the pressure ... Maybe my leaving alone will cause someone to bang on the table."
Wallerstein sharpened his remarks and made clear that the status of those 3,000 houses was impeccable since the Legal Advisor determined so, but they are still not being allowed to sell the houses. "There's an amazing precedent. Everyone knows what I think of the Supreme Court, but on this issue I wish the Supreme Court would talke Mitzpeh Kramim. Anyway it'll be better than Erez Kamnitz. The District Courts ruled that although unregulated, market regulation applies and the State will compensate if ownership can be proven. Meanwhile this can't be used because Leftist organizations petitioned the Supreme Court, but when a Supreme Court decision is made in Mitzpe Kramim, it will be an incredible precedent to release this entire jam we're in. I've actually come to days when I long for a Supreme Court ruling."
Isn't there a fear that the Supreme Court will overturn the District Court's decision and those 3,000 homes will get into serious problems? Wallerstein is convinced that this is impossible. "They can't overturn the District Court's decision. They can add some restrictions but compared to Adam, Eli, Tapuach, Bet El, or anywhere else I'm stuck with them, that will more than suffice. I have no doubt about that.
"The Legal Advisor ordered an opinion from a professor outside the system and unfortunately I couldn't get a copy of that opinion. What does this mean regarding this opinion? It's probably in our favor, otherwise it wouldn't be hidden from us. Ayelet Shaked also wanted to see the same opinion, and she couldn't get a copy either. The people in the State Attorney's Office are above the rest of the nation, they never get investigated and they don'y pay any price for the mistakes they make.
"I'm willing to serve the settlement public throughout the country, for anyone who wants to engage in settlement, as a volunteer or for money, but I won't stay if I feel I'm not contributing," Wallerstein says.