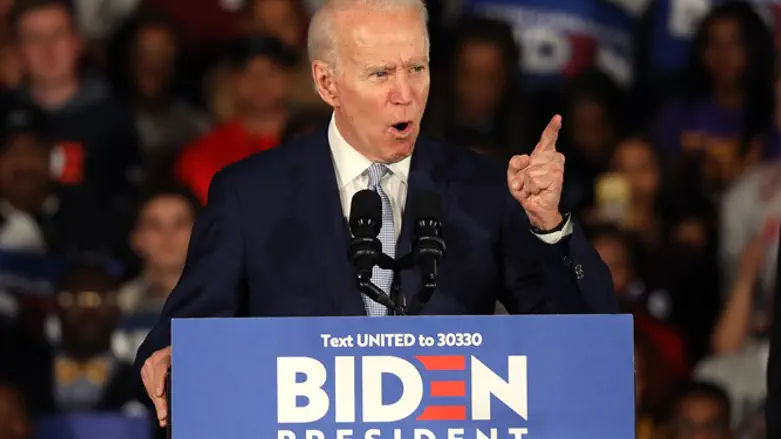 Joe Biden
Reuters
Nicholas Burns, adviser to the Democratic Party's presidential contender Joe Biden, has warned that "Annexation would be a huge mistake" on the part of Israel.
In an interview with the Arena journal (published by the Abba Eban Institute for International Diplomacy at the Interdisciplinary Center in Herzliya), Burns said that application of sovereignty over parts of Judea and Samaria was likely to negatively impact his country's relationship with the Israeli government.
Burns was asked what role the question of Israel was likely to play in the upcoming presidential elections in the United States, and replied that, "There is extremely strong support for Israel in both American political parties, and by both presidential candidates. The United States feels a lot of sympathy and support for Israel's security predicament."
"However, I personally think that an Israeli annexation of parts of the West Bank, which the Israeli government has declared, is the one issue which could most harm the U.S.-Israel relationship. There is a majority view among those who served in the last several Republican and Democratic administrations that annexation, if the Israeli government chooses to move forward with it, would be not just unwise, but a huge mistake.
"It would greatly harm Israel, internationally and among its strongest supporters. Annexation would fundamentally undermine any notion of a two-state solution in the future, which has been the official U.S. stance on the Arab-Israeli conflict since 1967."
Burns added that "If the Israeli government takes the step of annexation of some kind, capitalizing on their friend President Trump still being in office, I think there will be almost complete denunciation by the American political leadership, aside from the Administration. I also cannot imagine a single major newspaper, including the Wall Street Journal, that would support it. I know some will think I am a partisan supporter of the Democrats; I am not. I have served in both Republican and Democratic administrations and am simply doing my best to analyze both sides of the issue and to be frank."