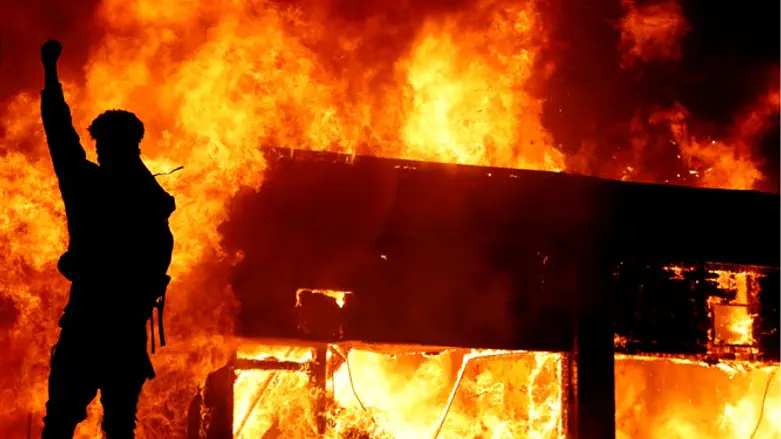 Rioting following death of George Floyd in Minneapolis
Reuters
The American Jewish community is under attack. During the high point of the riots in the USA, it was reported on Fox News that an African American man in camouflage threatened to harm the predominantly Jewish Diamond District in New York, which led to the police arresting him. This came after a Jewish camera store in Chicago and two Jewish restaurants in the DC area were targeted by the rioters. The windows of Chai Bar were smashed, while the Shouk restaurant was looted and even set on fire.Similarly, the windows of a 200-year-old synagogue were smashed in Richmond and a beautiful piano store in Philadelphia faced the wrath of the rioters, who looted and defaced the musical instruments.
Further to the West, during the recent race riots in America, five synagogues and three Jewish schools were targeted in Los Angeles by rioters who yelled "effing Jews." One of the synagogues was even defaced with graffiti that read "f_ck Israel" and "Free Palestine."
A statue of Raoul Wallenberg, the Swedish diplomat who saved thousands of Hungarian Jews from the Nazis, was smeared with anti-Semitic slogans. Jewish owned businesses and buildings were also looted and targeted with anti-Semitic graffiti. PLO flags were spotted in the streets.
ZOA referred to what happened in Los Angeles as the "radical leftist and black nationalist night of the broken glass."
The recent protests, which began as a struggle against racial inequality and police brutality following the brutal murder of George Floyd by a white police officer, have descended into a discourse that leads to entire "districts falling victim to violence and looting as a response to rage caused by racism."
Mendi Safdie, who heads the Safadi Center for International Diplomacy, Research, Public Relations and Human Rights, noted that America's history of slavery and Jim Crow in the past continues to haunt America, thus leading to the current unrest that we are facing now.
However, these race riots transformed under the guidance of Antifa, Black Lives Matter, Neo-Nazis and other extremists into a movement spreading hateful anarchy. In fact, African Americans are also suffering from this anarchy alongside non-Jewish white and Jewish people. The Clarion Project reported that David Dorn, an African American police officer, was murdered by the Antifa rioters, who claimed to be fighting against racial injustice. They also noted that they have been burning police stations, a move which will make it significantly harder for law enforcement authorities to fight against violent crimes in America, such as murder and rape.
If both Black Lives Matter and Antifa succeed in implementing their objectives, no one will want to live in America, including Jews. As journalist Lara Logan claimed, Antifa and Black Lives Matter seek to "assassinate white families until justice is served. We will set up in white neighborhoods and cities. It's time to take action. All white people must pay for their sins. They are evil and jealous human beings. Let's see you mourn over your uncooked disease-having families for once. White babies, old white people, lawyers, police, etc. PS: There are over 100 of us. The mission will be done."
Antifa's mission statement includes "1) liberation will be won by any means necessary; 2) We will destroy the state, the police, military, corporations and all of those who run the plantations; 3) We will live in dignity in a world without prisons; 4) Systems of punishment will be abolished. There will be no law to enforce, no money to protect. 5) Revolutionary justice will be determined by those who are oppressed; 6) There will be no government. No person or group will have power over another. 7) Communities will make decisions about where they live and will make sure that everyone has what they need to live a dignified life; 8) Land is not property. It is alive, communal, and must be protected. 9) Alongside international comrades, we will destroy all borders for the free movement of people everywhere; 10) Militant networks will defend our revolutionary communities. Liberation begins where America dies."
Nevertheless, while these race riots are directed against white America in general, prominent anti-Semitism scholar Manfred Gerstenfeld noted on Arutz Sheva that anti-Semites have infiltrated these protests, thus leading to anti-Semitic violence. In fact, the ADL has even documented that Neo-Nazis and white supremacists have shown up at these rallies, where they give Nazi salutes and shout "Heil Hitler," thus making an already volatile situation even worse. Prior to these recent race riots, the Black Lives Matter Movement already had an anti-Semitic platform, which accused Israel of being an apartheid state that committed "genocide against the Palestinians" and called for others to support the BDS Movement.
Journalist Melanie Philips exposed in Israel Hayom/JNS that that Black Lives Matter held rallies chanting "disrupt white capitalism," where they then proceeded to offer a series of "expletives against Fairfax, Beverly Hills and other LA districts that were attacked and vandalized that night." As Gerstenfeld noted, "Black Lives Matter is an anti-Semitic movement. Jewish organizations should never identify with Black Lives Matter. They should come out against racism, but not support BLM as rational people do not align themselves with their enemies."
Anti-Israel activists in America have been able to capitalize on the anti-Semitic ideology already inherent in the Black Lives Matter movement. The US Campaign for Palestinian Rights tweeted: "The Israeli military trains US police in racist and repressive policing tactics, which systematically targets black and brown bodies." Based on a 2016 article from Amnesty International regarding cooperation between the Israeli and American police, some radical leftists are mendaciously arguing that Israel stands behind police brutality in the US. According to Palestinian Media Watch, both Fatah and the Palestinian
Oddly, it was the employee of Palestinian store owner Mahmoud Abumayyaleh, who called the police on George Floyd for giving the business a potentially counterfeit twenty dollar bill.

Authority have made similar arguments.

Safadi noted that, oddly, it was the employee of Palestinian store owner Mahmoud Abumayyaleh, who called the police on George Floyd for giving the business a potentially counterfeit twenty dollar bill: "Because of a Palestinian store owner's employee's complaint, Floyd was killed and America is burning." It should be noted that Palestinian American Congresswoman Rashida Tlaib participated in the Floyd demonstrations and has spoken out in support of considering to defund the American police.

The question remains, is American Jewry's targetting in this pogrom a temporary hardship or will it threaten the future of American Jewry? As an American Jew, I ponder honestly whether Jews have a future in America. In the best-case scenario, Trump is re-elected and imposes law and order utilizing brute force. Nevertheless, the socio-economic damage that these riots combined with the coronavirus have caused will continue to haunt American Jews for years, if not decades, to come. This will in all probability make America an inhospitable country for Jews, as anti-Semitism flourishes during times of great economic depression.

And in the worst-case scenario, just imagine if Antifa and Black Lives Matter win. The American police is defunded and the whole country suffers, as the nation is destroyed from within in the name of promoting anarchy and African American militant nationalism. America's borders will be open for Iran, North Korea and any other rogue state to exploit. This will lead to American Jews seeking to flee the country en masse. If American Jews are unwilling to do that, then at the very least they will have to train vigilantes in order to defend their homes, their synagogues, their stores, etc. as in South Africa, for the police won't be there to do it for them. Either way, I fear that young American Jews do not have a promising future to look forward to. The Golden Medina is no more. America was burned and looted and dissenting opinions have gone underground. Only G-d knows if it will all be rebuilt again from the ashes.

Rachel Avraham is a political analyst working at the Safadi Center for International Diplomacy, Research, Public Relations and Human Rights. She is the author of "Women and Jihad: Debating Palestinian Female Suicide Bombings in the American, Israeli and Arab Media."