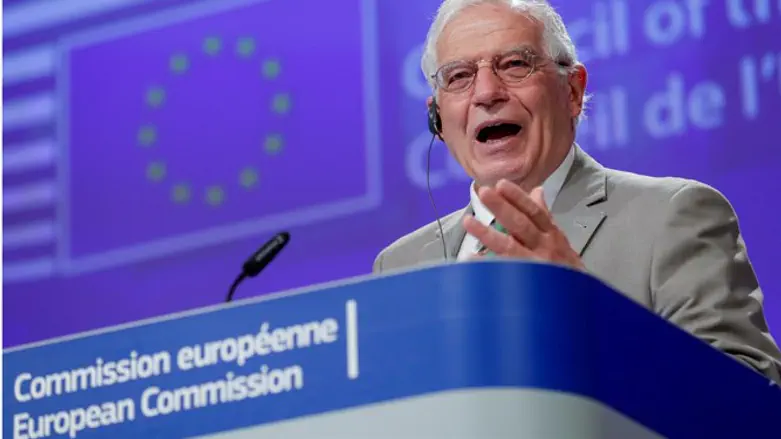 EU foreign affairs chief Josep Borrell
Reuters
Defense Minister Benny Gantz spoke to EU Foreign Minister Mr. Josep Borrell this morning, and let him know Israel was committed to promoting the peace process. The two also discussed relations between Europe and Israel.
Gantz reiterated that the State of Israel would be open to maintaining diplomatic dialogue with the European community as well as regional partners as the Jewish State is in the midst of preparations to apply sovereignty in parts of Judea and Samaria. The Defense Minister also stated he would do everything in his power to safeguard Israel's security interests.
Likewise, he highlighted the importance of the European Union actively working to block Iran's dangerous nuclear armament by applying massive pressure and extending the embargo on arms supply to the regime. They concluded by noting that Israel and the European Union share common values and strategic interests, and expressed their mutual sense of eagerness to continue working together to advance common goals.
In a separate development, it was reported today that Iran may be on the verge of a political showdown with the Hamas terrorist organization after revelations that a senior Hamas operative was spying on the group on behalf of the Iranian regime.
Channel 12 reported that Hamas discovered that at least one member of Musa Abu Marzouk's team, considered a central figure in the foreign affairs of the group, was passing information to Tehran via Hezbollah.
Following the discovery, Abu Marzouk, known to be unenthusiastic about Hamas' tightening cooperation with the Iranian Revolutionary Guard, reportedly complained of the matter to Hamas leader Ismail Haniyeh and asked for his intervention. Haniyeh, for his part, is said to have brought up the matter with Hezbollah leader Hassan Nasrallah.