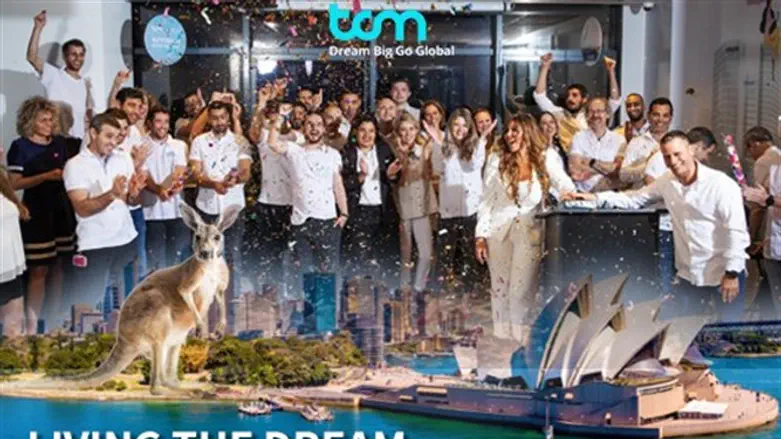 TCM team after signing with Australian IPO underwriters
Yoav Alon
Even in today's economic climate, e-Commerce companies continue to flourish and make profits despite sharp declines in global stock exchanges. Gabi and Shani Bar, the co-founders and co-CEOs of TCM identified the investment potential of online stores and are now taking the company to IPO on the Australia Stock Exchange. Here is the story behind it.
Trade is primarily done online today. Many consumers choose to make their purchases online without having to visit malls and shopping centers. Millions joined the online shopping revolution in the present global reality: consumers changed their habits and switched to buying products online. The convenience of online shopping has brought it into the mainstream for the modern age.
Online commerce is growing at a rate of 25% each year, led by the major online marketplaces including: Amazon, Shopify, eBay, Alibaba and more. Prior to the recent economic changes, 14% of all worldwide commerce was online. It's now estimated that e-commerce trading will reach $4.9 billion in 2021.
A decade ago, Shani and Gabi Bar identified the potential of online stores as digital real estate and established TCM to create the technology and e-commerce expertise for successful online store management and enhancement. Over the years, TCM has become a market leader with its advanced tools based on Big Data, AI, Machine & Deep Learning and automated processes.
TCM uses machine learning algorithm to identify online stores valued at $1 million and up, highly profitable, privet labeled, and with the best growth potential. The search process is enabled by TCM's proprietary data-centric decision-making system and big-data technologies that scans 4 million data points a day to determine the best solution algorithmically.
Recently, TCM signed an IPO agreement with leading broker in the purpose of listing TCM on the Australia Stock Exchange: "We are excited about the upcoming IPO. It is another step going forward as a leading digital real estate company. After investigating the global Stock Market opportunities, we made the decision to pursue listing with ASX – one of the most important stock exchanges in the world. We are confident that this step will further establish TCM as a world leader in online trade," says Gabriel Bar.
A Winning Combination of Technology and Professional Team
Gabi and Shani attribute their success to TCM's high quality staff and breakthrough technology. This is what enabled the company to advance to where it is today – towards the upcoming IPO in Australia. With its dedicated employees and technological capabilities, TCM will continue to lead and be at the forefront of online trading.
"Our staff is the world's best digital real estate team. Together with our breakthrough tools, leading analysts and professional marketers for promotion, management and development – TCM is leading the industry, "said Shani Bar, adding: "Just a few days ago, we created $300,000 profit in one month, in a short time by bringing a successful North American store to another four continents. That is an example of how TCM takes high-potential local stores and turns them into a global success story, including logistics and professional distribution."
Gabi and Shani Bar with the TCM management team after signing with Australian IP
Mickey Suissa
"Our success is… also winning for our customers"
TCM's business model is based on monetization for its customers - management fees come out of profits for a WIN-WIN relationship. "Our business model is part of what creates the trusting relationship we have with our customers and partners. We only profit when our customers profit," said Gabriel Bar Shani. "Today, we manage tens of millions of dollars of digital assets. We've generated high profits for our clients for years – that's what we're known for."
According to Gabi and Shani, TCM's success results from the company's founding values. "Our clients are our partners. They purchase a digital asset that works and makes a profit. They own the property as digital real estate. We manage the property for them – by maximizing its profit and enhancing its value. It's a successful model enabling our continued success," says Shani Bar adding: "Our customer relationship fosters respect and communication with full transparency."
About the upcoming IPO, Bar says: "TCM continues to make progress and soon will become a public company. We will continue to grow our online stores and technology to generate profits for our customers from digital real estate. We're looking forward to even greater achievements in the next chapter. "