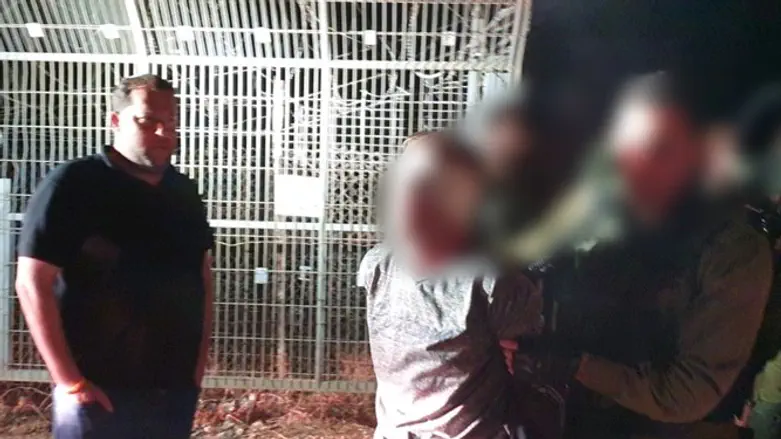 The arrest of the suspect
Zvi Sukkot, Samaria Council
A terrorist carrying a knife was caught outside the town of Itamar in Samaria Tuesday night. The town stated that the terrorist did not succeed in entering the community and residents may resume their normal routine.
The infiltration attempt was discovered during an exercise to ensure the community's readiness.
The team members ran to the terrorist, who attempted to attack them. He then threw away the knife and was captured.
Samaria Regional Council chairman Yossi Dagan, who was nearby, arrived at the scene and thanked the emergency squad volunteers and the security forces for their swift action.
"There was a big miracle here. A major attack was avoided here tonight. I urge the prime minister to take offensive proactive action against the Palestinian Authority," Dagan said. "Because of Abbas' incitement, there was almost a terrorist attack here. This time it was prevented thanks to the alertness and heroism of the residents and soldiers. The Israeli government should treat it as if a terrorist attack occurred here."
"We will be strengthened. We will defeat terrorism, build more, and that is our response. The military response should be conducted under the government's guidance, a determined security action against the terrorists of the Palestinian Authority headed by Abbas," Dagan concluded.