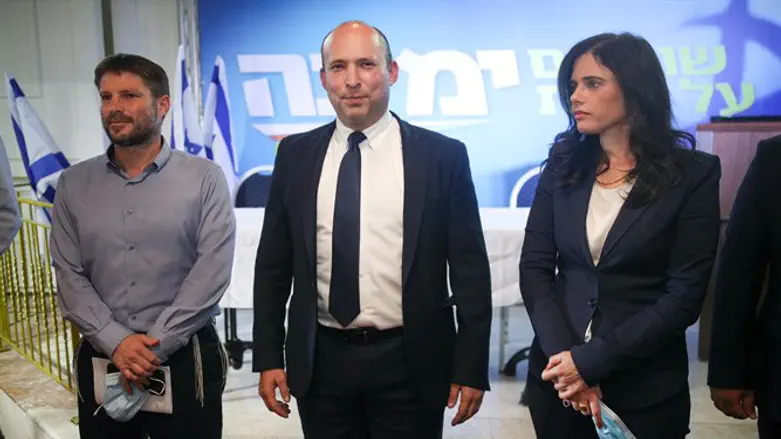 Yamina officials Bennett, Smotirhc, and Shaked
Yonatan Sindel/Flash 90
The Yamina party responded to the Supreme Court decision to strike down the Regulation Law by reaffirming the party's commitment to passing the Overrule Clause to allow the Knesset to re-pass laws struck down by the court.
"We submitted the Overrule Clause for legislation. Whoever supports it is right-wing. Whoever opposes it is left-wing," the faction stated.
The Yamina party added: "The excuses are over. There is a definite majority in the Knesset for passing the Overrule Clause. We expect to see the Likud party's decision. No stories. You're for or against."
Sources in the party said Tuesday evening that tomorrow, Yamina will ask the coalition chairman to bring the law proposed by MK Ayelet Shaked for a vote by next week.
Yamina further stated that its MKs were the ones who promoted the Regulation Law despite opposition by Prime Minister Netanyahu.
At the same time, according to the party, former Justice Minister Ayelet Shaked also took into account the possibility that the Supreme Court would strike down the law, and as Justice Minister ensured that there would also be administrative tools to normalize settlements which could be implemented if the law is struck down.