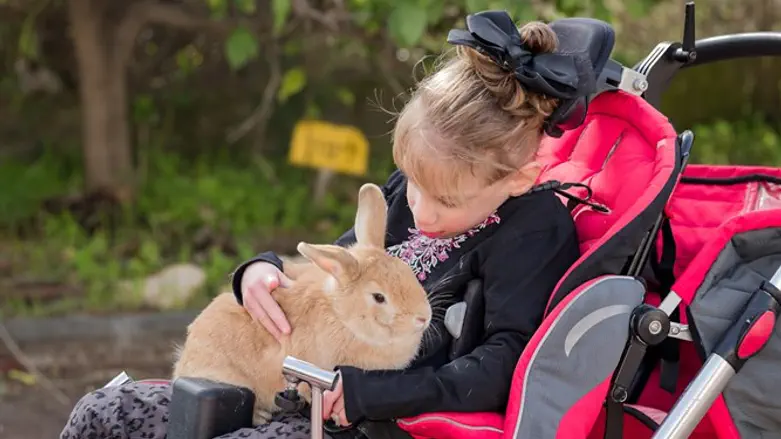 Child holding rabbit at Ohel Dov
Tzohar Halev
Tzohar Halev, a non-profit organization in Israel that operates a network of special education institutions, rehabilitative work centers and housing facilities around the country, has announced a new initiative in which special needs children care for wounded and "special needs" animals.
The therapeutic zoo, called Ohel Dov, or Dov's Tent, is located in the southern city of Ashdod. It is home to some 50 animals including special birds, hamsters, snakes and chickens. The animals, suffering from a number of conditions such as depression, abuse and eating disorders, come to the center from animal hospitals and SPCA Israel, in an effort to provide rehabilitation. For example, one parrot was abandoned by its owner and reacted to the trauma by plucking its own feathers. There are rabbits that were born with physical abnormalities and a dove born prematurely.
About 40 children from Tzohar Halev with Down Syndrome and autism visit the therapeutic zoo on a regular basis, under the guidance of an animal therapist and a veterinarian. The children identify with the various problems of the animals and have great empathy for them. They also gain by improving their own functioning and learn life skills such as responsibility, cleanliness and how to look after animals.
"The zoo has changed the lives of these animals and it benefits everyone - the students, teachers and staff here," said Yonatan Rozen, the manager of the Therapeutic Zoo. "The children that care for these "special needs" animals make deep connections to them and show unconditional love and warmth. They feel they can understand them and have conversations with them. We see special needs children invest more time in caring for these wounded animals than they would for regular "therapeutic" animals. Even in the Covid-19 lockdown, the children were sincerely worried about them. I would get dozens of calls everyday from the children asking how the animals were doing."