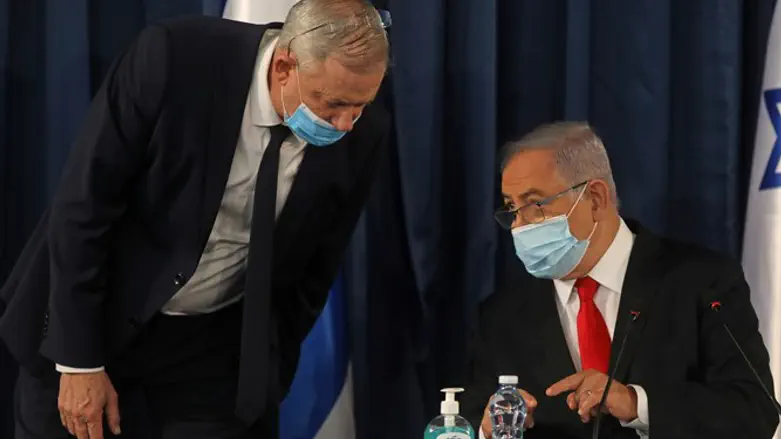 Netanyahu, Benny Gantz at cabinet meeting Sunday, June 7th
REUTERS
The Israeli government's special cabinet dealing with the coronavirus is expected to debate a controversial bill which would grant the government special emergency powers to combat the ongoing pandemic.
The so-called "Coronavirus Law", which drew widespread criticism in recent weeks, particularly over a clause which would permit police officers to forcibly enter private homes even without a warrant, will be brought to the coronavirus cabinet for debate Monday, where it is expected to be approved, sending it to the Ministerial Committee for Legislation.
If the Ministerial Committee for Legislation, which includes representatives from all coalition factions, endorses the bill, the entire government will be obligated to support the bill in the Knesset plenum, essentially guaranteeing its passage.
Following a public outcry, the clause enabling police to enter homes without warrants has been removed from the newest version of the bill, though the current proposal retains many of the controversial portions of the original "Coronavirus Law".
Under the proposed law, the government will be endowed with special emergency powers for 45 days, with the Knesset able to extend those powers for up to 10 months.
The bill would give the government the legal power to strictly enforce policies adopted during the early months of the coronavirus pandemic, which either were not strictly enforced by police or were implemented on the basis of temporary moves by the security cabinet.
If passed, the law would give the government the legal power to impose mass lockdowns and order citizens into quarantine, and would grant authorities the power to fine or jail people attending unauthorized public gatherings. Protests, however, would retain legal protection.
In addition, the bill would permit the government to seal off neighborhoods or towns where outbreaks of the coronavirus are detected for a week, with the Knesset able to extend the closures.