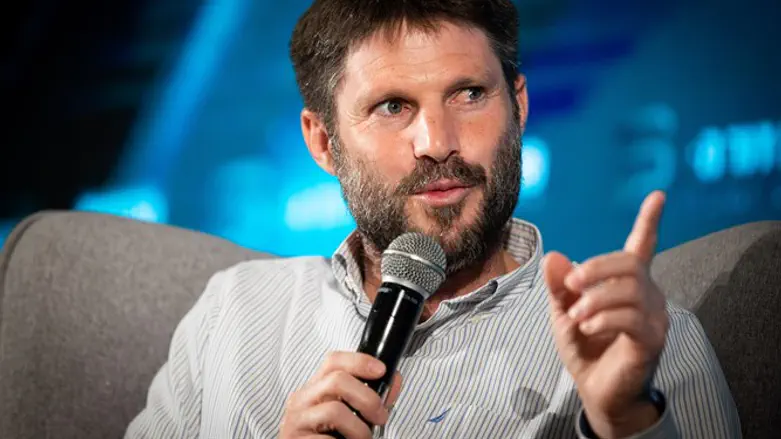 Bezalel Smotrich
Flash 90
MK Bezalel Smotrich (Yamina) on Monday explained in an interview with The New York Times why the right is opposed to US President Donald Trump's peace plan despite it including an Israeli application of sovereignty over Judea and Samaria.
Smotrich said that the plan would open the door for a Palestinian state and bring an end to the settlement enterprise in Judea and Samaria.
"It's either or," he stated. "Either the settlements have a future, or the Palestinian state does — but not both."
Efrat Mayor Oded Revivi said in the same article that the next several months are a window of opportunity to apply sovereignty that could slam shut if former US Vice President Joe Biden defeats Trump in the November election.
Smotrich said he believed that a new administration in America could abandon the requirements in the Trump plan. Those include Israel retaining control over the Jordan Valley and existing communities in Judea and Samaria while allowing the Palestinians to work toward some form of limited sovereignty elsewhere. The Palestinians could only achieve that provided they disarm Hamas, accept overriding Israeli security control, recognize Israel as a Jewish state, give up on the goal of having a capital in eastern Jerusalem and agree to a range of other conditions few believe they would ever accept.
"Very quickly, all those conditions will be forgotten. You will quickly lose control, and what will basically happen is a state like Gaza will be established," said Smotrich.
Critics of the yet-to-be published map of the sovereignty plan Netanyahu is drafting with the Trump administration say it leaves too many Jewish communities as disconnected enclaves that would be barred from expanding. They also warn it would further isolate them from the rest of Israel, giving the Palestinians control of roads that could turn a 35-minute commute to Jerusalem into a roundabout desert trek of two hours or more.
"No one will want to live in an enclave, no one will want to build a home in an enclave and no one will be able to sell their home in an enclave," said Yochai Damri, chairman of the South Hebron Hills Regional Council.
Smotrich said the residents of Judea and Samaria believed the Trump administration was divided into two camps: One, led by US Ambassador to Israel David Friedman, is made up of people who "really don't want to establish a Palestinian state, and they want a good map for Israel."
The other camp, he said, is led by White House senior adviser Jared Kushner, who appears more invested in the Trump peace plan, having led its development and worked hard to win support for it within the Arab world.
Smotrich told The New York Times he would prefer the status quo over a plan that even contemplates allowing for a Palestinian state at the expense of expanding Jewish communities.
"I don't want shortcuts that harm my ability to put facts on the ground and that weaken the settlements," he said. "If the sovereignty map is favorable, I will accept it with open arms. If not, I prefer to go without it. I will persevere, work hard, set up settlements and fight with the Palestinians for another 20 years.
"And in 20 years," he continued, "the American government will give me sovereignty over all of the territory, because there will be settlements on all of the territory."