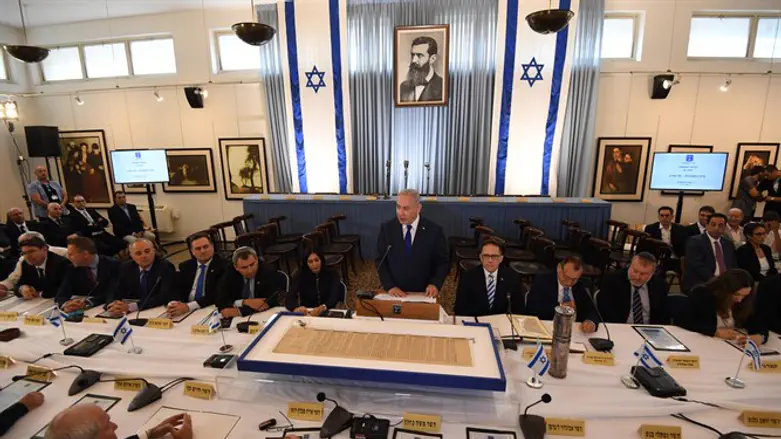 Government meeting in Tel Aviv
Haim Zach (GPO)
Israel has a government, but it contains so many parties that there is no way every one of them can be satisfied with its coalition share.
The two main parties, Netanyahu's Likud Party and Benny Gantz's breakoff Blue and White Party, and a few smaller ones formed the coalition for a government that has been sworn in as Israel's 35th government. It is a relief to have a sitting government after three elections and a year and a half. It seems that the government is overloaded with a total of 33 portfolios, not including the prime minister and prime minister-in-waiting.
Prime Minister, Netanyahu's Likud Party with 36 Knesset seats were given a total 15 portfolios. Benny Gantz's Blue & White Party with 15 Knesset seats, second highest to Likud, were given a total of 12 portfolios. It does not seem logical to me that Blue & White should have that many positions in the government with that few seats. The religious Shas Party with 9 Knesset seats were awarded only 2 portfolios. Labor with only 3 Knesset seats was given 2 portfolios; while Jewish Home and Gesher each with only 1 Knesset seat were each awarded a portfolio.
Yamina was offered crumbs that effectively kept it from joining the government, despite the stellar performance of its ministers in the interim and previous governments, and its unswerving support for Netanyahu during the election campaign.
Usually a ministry or portfolio grants the right to administer a branch of the government, but never before have there been so many government portfolios. Some of these positions seem redundant and overlap with each other, and some departments have been divided just for the case of creating a new administrative post. It seems that the Prime Minister was offering a position as kind of a carrot to get more on board for his coalition government. Some of the portfolios handed out seem logical, but that still does not justify having tens of government administration positions and their financial cost.
We can be thankful that we do have a government after so much struggle in forming one because it appeared for a while that the courts were going to step in because of petitions submitted against Netanyahu being allowed to form a government due to his being indicted.
It is called a unity government because of both conservative and left wing politicians agreeing to be a part of the government. However, this does not mean that the country is united, except for, perhaps, fighting the coronavirus. Tovia Singer has facetiously stated that Jews always get along. "Most Jews are for Jewish unity. 'As long as you do it my way.'"
In the Israel type of government, the Westminster type of government, there is an opposition government as well as the sitting government that is ready to take over if and when the sitting government is dissolved for whatever reason. The current Opposition is not really of that nature, it is not unified except for the fact that they are all in agreement about being opposed to the sitting government.
Here is the makeup of the Opposition. Yesh Atid (left of center liberals) and Blue and White had 33 Knesset seats and were opposed to Netanyahu forming a government, but after Blue and White split from Yesh Atid to be part of the Netanyahu government, that left Yesh Atid in the opposition with 16 seats. They are joined with the National Religious rightist Yamina Party with 5 seats, The Joint Arab List with 13 seats, rightist and anti-religious Yisrael Beyteinu with 7 seats, and the far left Meretz with 3 seats for a total of 46 seats in the Knesset compared with the 74 seats of the sitting government.
The leader of Yesh Atid, Yair Lapid, who has formally become the leader of the Opposition, is working to unite all the opposition parties. I would think that this would be a difficult task because of the wide range of differences. The spokesman for the Yamina Party, Naftali Bennett, is hoping to promote his ideas for the country and especially Judea and Samaria, also hoping to gain more followers and make a bigger splash during the post Netanyahu era. He may be hoping that some in Likud will jump ship and align with the Yamina camp.
On the other hand, if Yisrael Beyteinu Party leader, Avigdor Lieberman, has lost his popularity for refusing to join with either the left wing or the conservative side in previous elections, perhaps some members of the Yisrael Beyteinu Party could possibly decide to jump ship for another right wing party. Both the Yisrael Beyteinu Party and the Yamina Party are in favor of the Jews keeping Judea and Samaria as part of the State of Israel and Yamina is strongly against having a Palestinian State in the middle of Israel.
Maybe the Yesh Atid Party would align more with Yamina for the sake of unity. This is what Yair Lapid has said about Naftali Bennett. "Bennett is my friend, regardless of his political positions. We worked well in the coalition together and I see no reason why we cannot serve well in the opposition together."
I cannot fathom how any of the other Opposition parties could align with the Joint Arab List except Meretz nd possibly Yesh Atid, but Lapid does that, his party would separate themselves from the other two Jewish Opposition Parties and many of their voters.
It will be interesting to watch and see how things work out, to see if the Knesset stabilizes and another election is prevented, whether the Norwegian Law according to which acting ministers resign from the Knesset passes, and to see how much influence the Opposition can have on the sitting government.