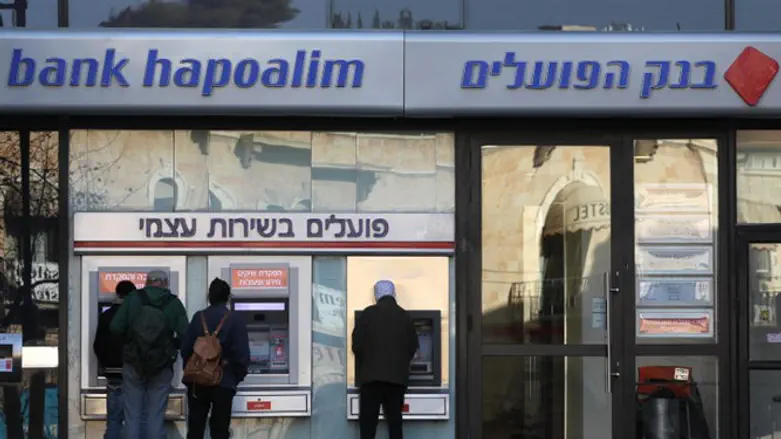 Bank Hapoalim
Flash 90
Bank Hapoalim on Tuesday announced that it would lay off up to 1,000 employees due to the coronavirus outbreak, Maariv reported.
The plan will cost 400-500 million shekel ($113,665,440-142,081,800), and includes laying off 100 employees who were included in the bank's previous layoff plan but did not take the offer to quit. An additional 400 employees will be laid off as part of the plan to end the contracts of 900 employees over the course of three years. Another 500 are expected to be laid off in the two years following that.
The plan applies to experienced workers who have reached the age of 55 and have been working with the company for over 20 years. These employees will be able to choose either early pension, or expanded compensation for the layoff, of up to 250% for each year of work, according to the employee's experience and position in the company.
Those who wish to join the pension plan will be asked to inform the company of their decision by June 30, and the plan will go into effect on September 30, Maariv noted. The management will have the right to refuse to let an employee take early pension, if he is considered too essential and his leaving will harm the production chain, or if there is no one to replace him.
It is expected that the plan will allow Hapoalim to save hundreds of millions of shekels in salaries, and to improve the efficacy, which at 57% is one of the lowest in the banking system.
During the coronavirus outbreak, 75% of the bank's branches were closed, but thanks to the bank's online banking system, customer service was only minimally affected.
Other banks are also laying off workers, Maariv reported. Discount Bank plans to lay off 250 employees by Rosh Hashanah (the Jewish New Year), and Bank Leumi is planning a similar move.