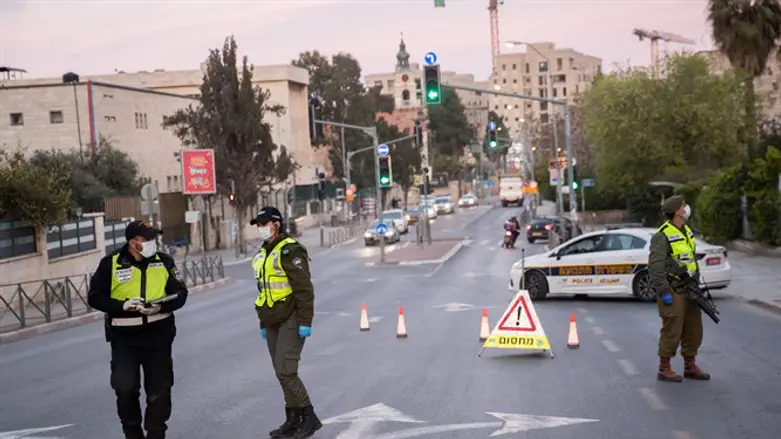 Soldiers and police officers in Jerusalem
Photo by Yonatan Sindel/Flash90
Initial results of a survey conducted by Hebrew University and Tel Aviv University show that fines have not changed Israelis' behavior.
The survey was conducted as part of an international research and it examined the public's beliefs and responses to the steps taken by the government during the coronavirus outbreak.
Approximately one-fifth of respondents said that they believe the government's decisions were too harsh, and many noted that they disliked the government's threats of arrest and forced hospitalization for those who violated quarantine.
The survey was conducted by Professor Hagai Levine of Hebrew University, and Professor Anat Zaidman-Zait of Tel Aviv University. It was divided into two stages, or waves. The first wave aimed to understand the public's beliefs, concerns, and responses to the steps taken to prevent or reduce the spread of coronavirus. The second wave attempted to find how coronavirus influenced various aspects of people's lives, which changed significantly due to the pandemic.
A total of 1,523 Israelis, 65% of whom were women, responded in the Israeli Hebrew-language, and the most common factor influencing Israelis' response to the guidelines was information on how the virus spreads and how each person's actions help slow the spread of the virus and how they save lives.
However, the threats of fines, arrest, or forced hospitalization of quarantine violators and/ or the entire population under lockdown, which were presented and transmitted by the media each evening, had the least amount of impact.