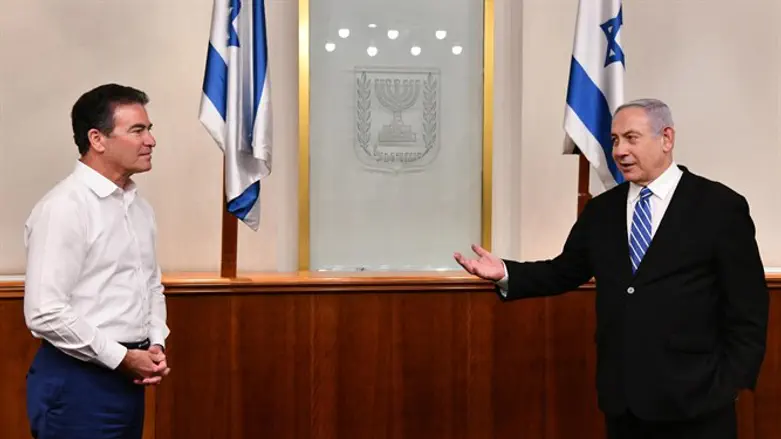 Netanyahu and Yossi Cohen
Chaim Tzach
Prime Minister Binyamin Netanyahu met with Mossad head Yossi Cohen tonight (Sunday), and thanked him for agreeing to transfer responsibility for the procurement of coronavirus medical equipment to the Ministry of Health over the next two days.
At the meeting, the Prime Minister praised the achievements of the procurement project led by the head of the Mossad, which alloweed a massive purchase of essential medical and protective equipment for the fight against the coronavirus over the last months.
The institutions are in the process of arranging an orderly transfer of powers.
Netanyahu thanked the Mossad head along with the Defense Ministry for carrying out the assignment. He praised Cohen with "exceptional work and said that "the results spoke for themselves."
"We are currently passing on the torch. It's not clear what tomorrow will bring or what will happen a month from now. Since you've acquired relevant experience in the field, remember what you have learned—we may need it down the line. I'd like to thank you on my own behalf and on behalf of the citizens of Israel for your excellent work," added Netanyahu.
Addressing the Prime Minister, the Mossad chief said: "Mr. Prime Minister, this Tuesday, we will hold an orderly ceremony to transfer the operation from the current headquarters to the Ministry of Health. We have been leading the battle for the past two and a half months, having been instructed to assist the State by procuring and stocking medical equipment from across the world…"
According to the Ministry of Health, a total of just 10 new coronavirus cases were confirmed in Israel today. The number of active patients is 2,285, with the amount of virus fatalities in the country unchanged at 279.