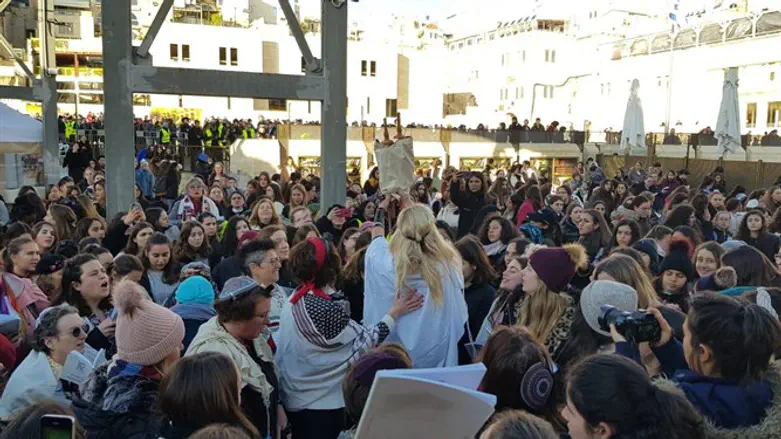 Women of the Wall
spokesperson
The Women of the Wall organization requested that the police increase vigilance and guard its members during the monthly prayers at the Western Wall on Wednesday.
A referral was made following messages distributed in recent days calling for women and female seminary students to arrive and interrupt the prayers at the Western Wall.
The letter states, "As every month, and as has been the case for 31 years, the Women of the Wall will reach the Western Wall Square for Rosh Chodesh prayers."
"Unfortunately, we are informed that extremists intend to interrupt our prayer through various means. We know that SMSs are being sent to women and seminary students, with the aim of enlarging the [presence at the] Western Wall and disrupting the Women of the Wall's right to pray as they please," they added.
"In messages sent by extremists, it says: 'After blasphemy of G-d and reading the book by the provocative women of the Shabbat - increase the sanctification of the Lord! We will all come to the prayer of Rosh Chodesh Adar ...'. There is no doubt that the intention of these extremists is not to pray at the Western Wall, but to interrupt, sometimes even violently and as we have experienced before our flesh, our prayers," the Women of the Wall claimed.
"We are deeply concerned about our safety and security and ask the Israeli police to increase their vigilance and guard us, in order to prevent bloodshed and blasphemy in the holy place," the Women of the Wall stated.