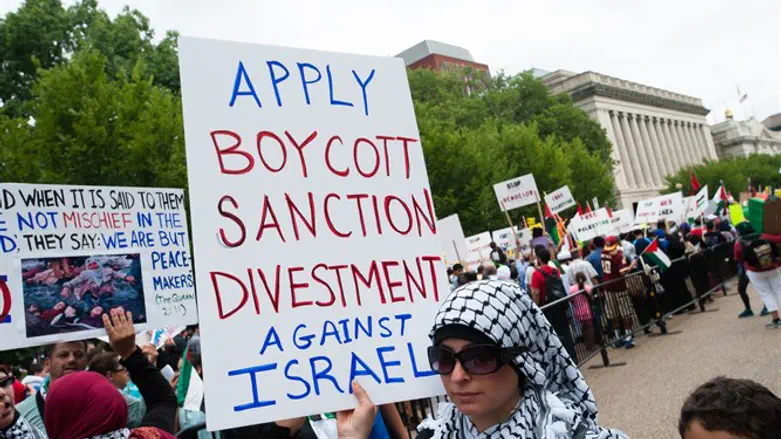 BDS activists
iStock
A new report on anti-Semitism in the US claims that the anti-Israel Boycott, Divestment, and Sanctions (BDS) movement has 'unprecedented similarities" with anti-Semitic movements on the far-right.
According to Fox News, a new report authored jointly by the Zachor Legal Institute and StopAntiSemitism.org and backed by 23 Jewish and Christian NGOs, titled "The New Anti-Semites", is slated to be released on Monday, and reveals a direct link between the anti-Israel boycott movement and the increase in anti-Semitism in the US.
"The wide coalition behind the report illustrates the growing concern about the spike in anti-Semitism in the United States," the authors of the report said, according to Fox News.
The report says that anti-Semitism is often "disguised" as efforts targeting the State of Israel, rather than Jews generally.
The report's release comes less than a week after two members of the black supremacist group the Black Hebrew Israelite Movement killed three people inside a kosher grocery store in Jersey City, shortly after gunning down an undercover detective.
Jersey City Mayor Steven Fulop later confirmed that the killers had "targeted" the store, while the Attorney General of New Jersey, Gurbir Grewal, said the attack was being investigated as a potential act of domestic terrorism.
Liora Rez, director of StopAntiSemitism.org and one of the authors of the report, told Fox News that the BDS movement and other radical groups have been "making anti-Semitism mainstream" in the US, making it easier to "incite hate against Jews".
"I think that the BDS movement has put anti-Semitism in the spotlight with a massive megaphone that they have been granted on college campuses. It basically opens the Pandora's box."
Marc Greendorfer, the founder of the Zachor Legal Institute, said the research for the report began two years ago.
"What we found was that there was a very strong terror organization component to the founding and management of BDS," Greendorfer told Fox News.
Greendorfer polled a number of other organizations to see if they also had seen examples of the BDS movement making "very blatant anti-Semitic statements" or "affiliating with hate groups."
The Zachor Legal Institute and StopAntiSemitism.org report also found an "increasingly public intellectual and philosophical alliance between the BDS movement and far-right groups".
In addition, the authors of the report found numerous instances where left-wing BDS proponents have adopted the very same anti-Semitic rhetoric used by white supremacist groups.
But the exchange of rhetoric has been mutual, the report adds.
White supremacists have picked up on dog-whistle terms like 'Zionists', 'Zionism', and 'Israel', to stand in for the use of the word 'Jews'.
"For the first time we are seeing David duke changing his vocabulary," said Rez. "Rather than using 'Jews', he is spotlighting 'Israel', and 'Zionism'."
"In my opinion, this is a direct result of the radical BDS movement coming into play."