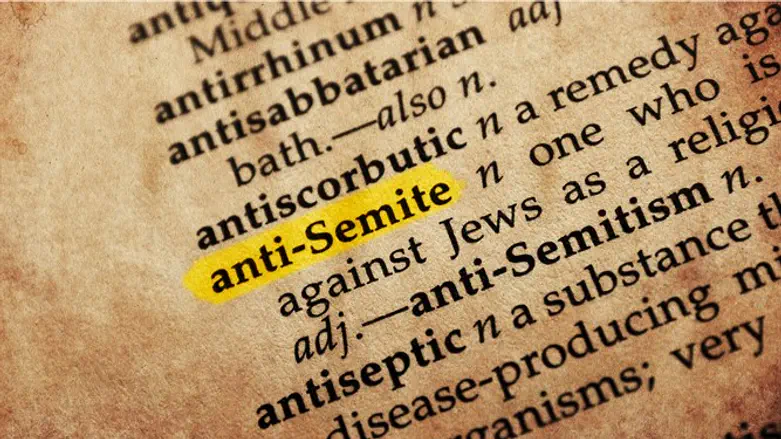 Definition of anti-Semitism
iStock
Fliers bearing white nationalist language and hate speech were circulated to businesses in Whitefish, Montana on Monday, the first day of Rosh Hashanah, JTA reports.
"The hate literature was not only offensive in relation to the Jewish holiday, but it is concerning as there is a recorded rise and mainstreaming of anti-Semitism in the United States, including the troll storm perpetrated from outside the community onto the Jewish people of Whitefish just two and a half years ago," Rachel Carroll Rivas of the Montana Human Rights Network said in a statement.
The fliers included code words like the number "88," which stands for "Heil Hitler" (because H is the eighth letter of the alphabet) and "14 Words" which represents a 14-word statement asserting white supremacy that was created by white nationalist David Lane, who is specifically named on the flier, according to the network.
Similar fliers appeared in Helena, Montana over the weekend.
This is a recurring theme in Montana, where neo-Nazi Andrew Anglin launched a campaign in December 2016 against Jews in Whitefish, in which he published personal details and photos of Jewish residents, including a child. The campaign stemmed from a real estate dispute in Whitefish between Tanya Gersh, who is Jewish, and Sherry Spencer, mother of white supremacist leader Richard Spencer.
Over the past three years, anti-Semitic fliers have appeared on campuses, in gas stations and other locations in the state.
In 2017, neo-Nazis planned an armed march in Whitefish in an attempt to harass the Jewish community. However, the march was later postponed after the white supremacist organizer failed to obtain a city permit.
The Jewish population of the city is about 60, noted JTA.