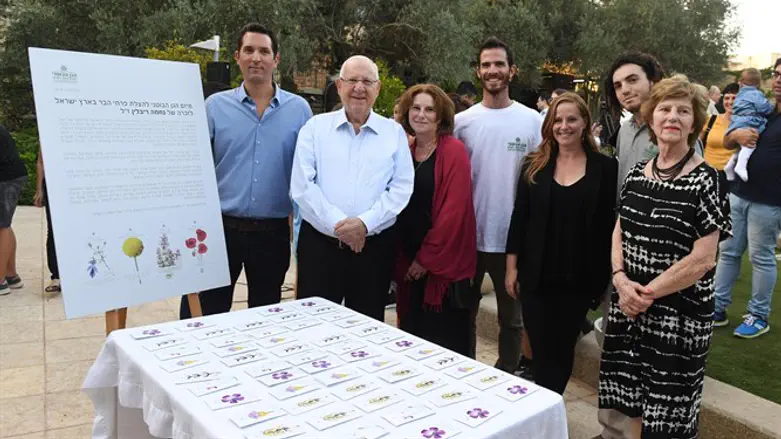 Campaign in memory of Nechama
Mark Neiman, GPO
President Reuven Rivlin and his family gathered together ahead of the New Year, to sow rare and endangered wild plants in the gardens of Beit HaNasi as the start of a campaign, in memory of the president's late wife Nechama, to save Israel's endangered wild flowers.
In order to maintain Israel's biodiversity, the Jerusalem Botanical Garden is launching a campaign calling on the public to purchase and plant seeds of local wild flowers in their private gardens and in flowerboxes. The campaign is dedicated to the memory of Nechama Rivlin, a true lover of nature who contributed over many years to Israel society and to the preservation of nature.
The Jerusalem Botanical Garden in Givat Ram, Jerusalem is the largest in Israel and has a collection of over 6,000 species and varieties of plants from all over the world. The garden has been cultivating, growing and producing some 30 different species of wild flower seeds for 40 years, most of them local, some of them rare, and some endangered.
The staff of the botanical gardens, along with dozens of volunteers from all over the country, recently completed the collection of hundreds of thousands of seeds of wild flowers. All of these seeds sprout easily, give beautiful flowers, do not require intensive irrigation and are suitable for every garden. The seeds were collected, cleaned and packaged by people from various communities Jerusalem which share a common love of nature and people. Partnering in the project are the Friends of the Jerusalem Botanical Garden, the garden's volunteers, people with special needs from Alut and Reut, young peoiple performing national Service, IDF and the staff of the botanical garden. This year they have packed about 12,000 bags of seeds which can be planted in gardens, flowerpots and communal gardens in apartment blocks.
The aim of the project is to allow all Israelis to incorporate wild flowers in their gardens, encouraging a love of the land of Israel. Every time these seeds are planted, they help preserve our ecological environment and allow future generations to enjoy them.
Tom Amit, CEO of the Jerusalem Botanical Garden: "Nechama Rivlin loved nature with all her heart and promoted green initiatives like growing flowers and vegetables in the communal garden at Beit HaNasi, connecting Israeli citizens to the world of plants. The Jerusalem Botanical Garden believes that the right way for us to honor Nechama is to name this campaign to save Israel's wild flowers in her memory."