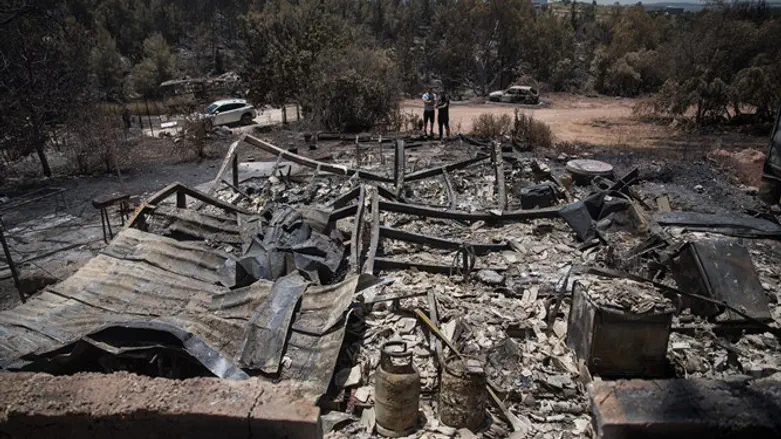 The destruction in Mevo Modi'im
Hadas Parush, Flash 90
Less than a week after Israel Police decided that there is not enough proof to declare the massive Mevo Modi'im fire an arson, sources involved in the investigation are claiming that there is no question the fire was set on purpose, Galei Tzahal reported.
Mevo Modi'im a forest town inhabited by Rabbi Carlebach's followers, burned almost entirely to the ground in May.
According to the sources, "The police know very well that declaring the fire an arson will require it to carry out many activities, such as finding and arresting the suspects. They know that it will be difficult to impossible to find these suspects, so they decided, as the body leading the investigation, to declare that it was not an arson."
The fires, which were ignited close together and in an unmistakable fashion, it is impossible that the fires were coincidental, and there is no choice but to define it as an arson, the sources added.
The decision to close the file has both criminal and financial implications. Under Israeli law, residents of Mevo Modi'im will be entitled to larger compensation packages if the fire was a criminal act. In addition, as long as the fire is not declared an arson, police have no responsibility to locate and arrest the arsonists.
The Fire and Rescue Authority said that the police investigation was thorough, and at the end of the day, Israel Police is the body authorized to investigate the criminal aspects of fires, in cases where such investigations are necessary.
A joint statement from Israel Police and the Fire and Rescue Authority to Arutz Sheva read: "No such thing happened, and it is not clear what these unknown sources are relying on - there is no connection between them and reality. As we stated many times, the findings of the joint investigation conducted by Israel Police and the Fire and Rescue Authority were transferred to the professionals in the field in Israel Police's Investigative and Information Department and the Central District Prosecutor's Office, and it was decided that the case will be closed, since no proofs of arson crime have been found."
"We regret the attempt to present things falsely in a way that harms the residents as well as the emergency and rescue services who conducted a comprehensive, thorough, and professional investigation in their attempts to uncover the truth."