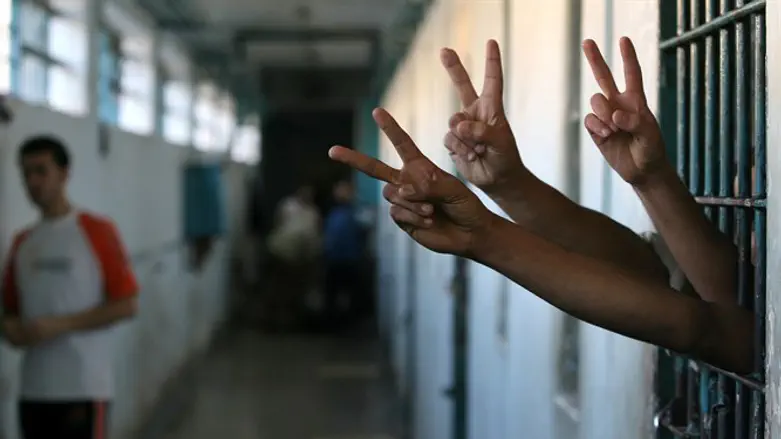 Terrorist prisoners (illustration)
Flash 90
Security prisoners with blood on their hands receive millions of shekels worth of special food for their holidays, an expensive TV in every cell, a ping-pong table and games, workout machines, unlimited newspapers, and lavish family visits, according to official details obtained by the Zionist organization Im Tirtzu.

The details were released by the Israel Prison Service following a year-long legal battle in which Im Tirtzu's Legal Division submitted a request for the information under the Freedom of Information Law.

The request was originally denied by the Prison Service, but following a court appeal filed by Im Tirtzu attorney Yaakov Cohen, the Prison Service was forced to release the information.

According to the details, terrorists serving time in Israeli prisons receive a special meal for the Islamic holidays of Eid al-Fitr and Eid al-Adha, which includes a chicken dish costing 47 shekel per prisoner. In the year 2018 alone, the special holiday dishes for terrorists cost 540,000 shekels, and from 2008-2018, the cost has exceeded 6,500,000 shekels.

In addition, every prison cell contains a 480 shekel TV, and prisoners have access to workout machines, ping-pong table, backgammon, chess, checkers, and nearly unlimited newspapers and books.

The document also revealed that in 2018, the 5,753 security prisons serving time received over 41,000 visits, which exceeds the Prison Service's own bylaws that permit one visit per two months.

Among the visitors were members of Knesset from the Arab parties. According to the information, in 2016 various Arab MKs visited terrorists 22 times.

CEO of Im Tirtzu, Matan Peleg, called the conditions "outrageous."

"It is outrageous that murderous terrorists with blood on their hands receive hotel conditions at the expense of the Israeli taxpayer. The blood of their victims are crying out from the ground," said Peleg.
"It's important to note," continued Peleg, "that testimonies we've received from personnel within the Prison Service indicate that the situation is much worse than the official information reported by the Prison Service."

"We are calling on the Prime Minister to implement the conclusions reached by Public Security Minister Erdan's committee on this issue and end the party for terrorists in prison," concluded Peleg.