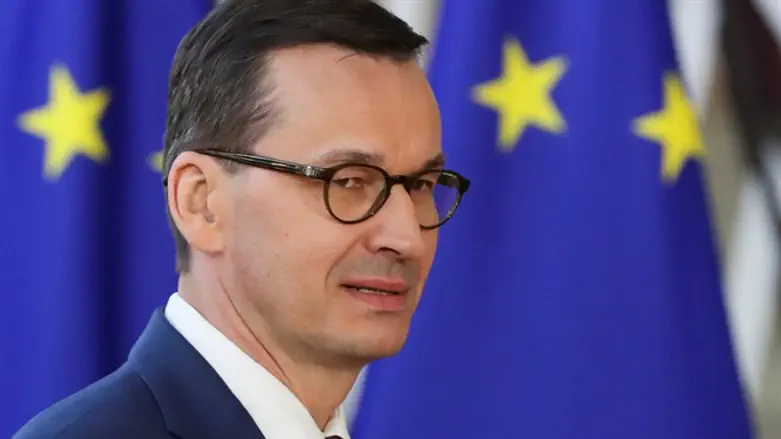 Poland's Prime Minister Mateusz Morawiecki
REUTERS
The Polish foreign ministry summoned Israel's ambassador to Warsaw for a reprimand Wednesday, after the Polish government demanded Israel take action following an attack on Poland's ambassador to Israel.
A 65-year-old Herzliya resident was arrested Tuesday after spitting at Polish Ambassador to Israel Marek Magierowski, who was sitting in his car near the Polish embassy in Tel Aviv.
Police said the man had approached the vehicle after the ambassador's car had honked at him. The suspect walked towards the ambassador's car while shouting, and banged on the car's roof. When the ambassador stepped out, the suspect spit at him.
The suspect told police that he had been on his way to the Polish embassy, but was rebuffed by embassy officials, who he says used anti-Semitic slurs when he tried to enter the building.
Polish Prime Minister Mateusz Morawiecki condemned the spitting incident as a "racist attack", tweeting: "I am very worried to hear of a racist attack on @PLinIsrael ambassador @mmagierowski."
"Poland strongly condemns this xenophobic act of aggression. Violence against diplomats or any other citizens should never be tolerated."
Later on Wednesday, Poland's foreign ministry summoned Israel's ambassador in Warsaw, Anna Azari, to discuss the incident in Tel Aviv.
The diplomatic row comes following a worsening of relations between the two countries, amid Israeli criticism of Polish legislation related to the restitution property taken during the Holocaust.
On Wednesday, the Polish parliament is expected to debate a bill drafted by the right-wing Kukiz '15 party which would block the restitution of property to the relatives of Holocaust victims.
Earlier this week, Poland announced that it was cancelling a visit by Israeli officials, citing their intention to raise the issue of the restitution of Jewish properties seized during the Holocaust.
"Poland decided to cancel the visit of Israeli officials after the Israeli side made last-minute changes in the composition of the delegation suggesting that the talks would primarily focus on the issues related to property restitution," the Polish foreign ministry said.
Last year, Warsaw passed a law that made it illegal to accuse the Polish nation or state of complicity in Nazi German war crimes.
The move sparked an outcry from Israel, which saw it as an attempt to ban testimonials on Polish crimes against Jews.
In response, Warsaw amended the law to remove the possibility of fines or a prison sentence.
In February, Israeli Foreign Minister Israel Katz drew Poland's ire by saying "Poles suckle anti-Semitism with their mothers' milk."
AFP contributed to this report.