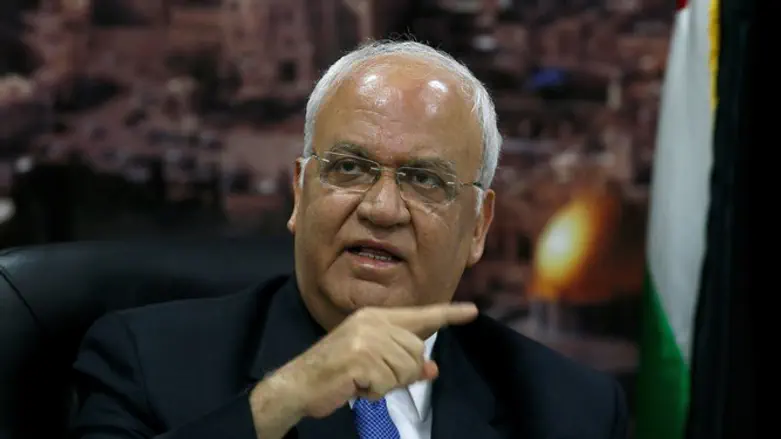 Saeb Erekat
Reuters
Saeb Erekat, secretary of the Palestine Liberation Organization's (PLO) executive committee, said on Tuesday that the policies and measures of the Israeli "occupation", which are manifested in attacks by "settlers", assassinations, arrests, sieges and closures, will not lead to peace, security and stability.
Speaking at a meeting with an American delegation, Erekat said that there is one way to achieve peace, namely the end of the Israeli "occupation", the realization of the independence of a Palestinian state with eastern Jerusalem as its capital and which will live in security and peace alongside the State of Israel within the June 4, 1967 borders, and the settlement of all issues including the refugee problem and the prisoners, while relying on the relevant international resolutions.
Erekat stressed that no one can change the foundations of international law, international legitimacy and international sources of authority to resolve the conflict. He accused the Israeli government and the American administration of establishing "the occupation and the apartheid regime."
In a reference to the split between Hamas and Fatah, Erekat said that the end of the split requires the implementation of the agreement from 2017, including the holding of general elections.
Erekat's comments come ahead of the unveiling of the Trump administration's so-called "Deal of the Century" to solve the decades old Israeli-Palestinian Arab conflict.
Jason Greenblatt, the US envoy for international negotiations, told Fox News this week that the plan will not be released until at least after Ramadan, the formation of a new Israeli government and the Jewish holiday of Shavuot, which ends on the evening of June 10.
The Palestinian Authority (PA), which has been boycotting the US ever since Trump's recognition of Jerusalem as Israel's capital in December of 2017, has rejected the US peace plan before it has even been unveiled.