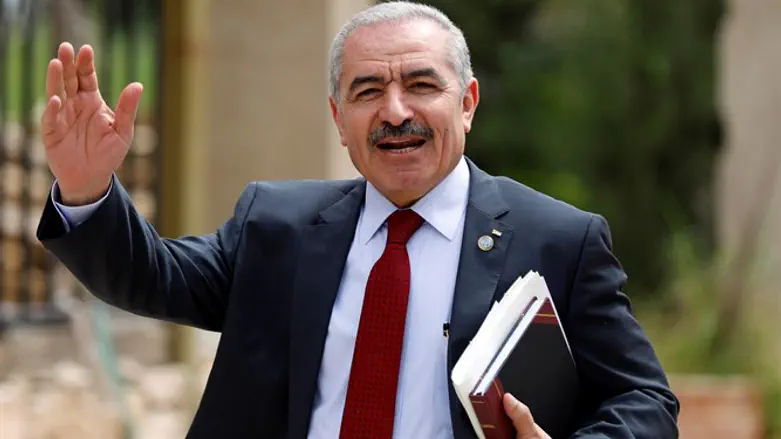 Mohammad Shtayyeh
Reuters
Mohammad Shtayyeh, head of the Palestinian Authority (PA) cabinet, said on Sunday that the Palestinians would not agree to the continuation of the existing political situation.
Speaking in Ramallah with the Norwegian envoy to the peace process, Shtayyeh said that the PA leadership intends to reexamine its relations with Israel, including on the political, legal, economic and security levels.
Shtayyeh stressed the need to create an international coalition to deal with the so-called "Deal of the Century", as the US initiative to resolve the conflict has come to be known.
He said that a clear position should be presented stating that there is no alternative to the two-state solution, the establishment of a Palestinian state within the pre-1967 borders with eastern Jerusalem as its capital.
Just last week, PA vice chairman Mahmoud Aloul threatened that the PA leadership "plans to retract recognition of Israel and cease coordination on security matters with the occupation's forces."
"The American administration decided to escalate the situation in the region following its decision to move the US embassy to Jerusalem and encourage Israeli settlement, and today there is a plan to annex land in the West Bank," said Aloul. "Therefore, we will not allow the continuation of the existing situation."
The PA, which has been boycotting the US ever since Trump's recognition of Jerusalem as Israel's capital in December of 2017, has rejected the US peace plan before it has even been unveiled.
Shtayyeh recently said in an interview that the Trump administration's peace plan will be "born dead".
"There are no partners in Palestine for Trump. There are no Arab partners for Trump and there are no European partners for Trump," Shtayyeh told The Associated Press.