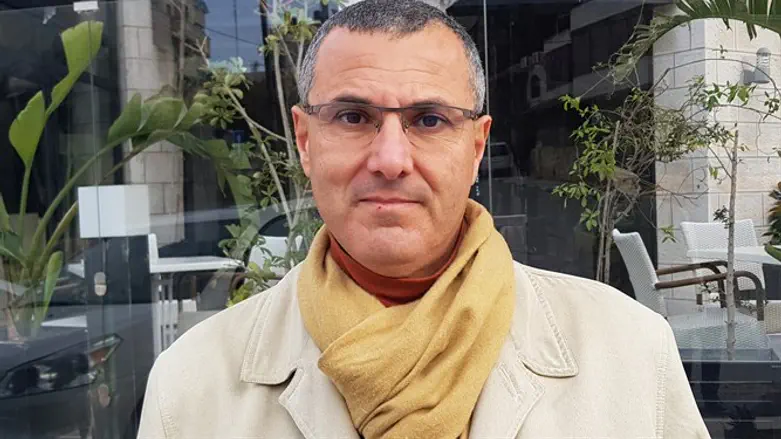 Omar Barghouti
Reuters
Betzalmo, an Israeli Human Rights NGO has appealed to Israel's Attorney General and Minister of the Interior to cancel BDS-founder Omar Barghouti's residency permit.
Two weeks ago Omar Barghouti was refused entry into the United States because of his role as founder and chairman of the anti-Israel boycott, divestment and sanctions (BDS) movement.
In a letter dated April 24, 2019, Betzalmo inquired with the Minister of the Interior how is it possible that the USA prevents a boycott leader from entering its territory, while the Israeli government continues to grant him a residency permit allowing him to receive benefits from the State of Israel.
"A recent law authorizes the Minister of the Interior, with the approval of the Attorney General, to revoke residency for anyone who harms state security or violates allegiance to the state, or endangers public peace," Betzalmo noted.
"Undoubtedly Barghouti's leadership of the boycott movement against all citizens of the State of Israel severely harms the State of Israel and is a blatant breach of allegiance, as well as a threat to Israel's security and defense by pushing for an arms embargo against Israel.
"In addition, the BDS movement collaborates with terrorist organizations, so there is undoubtedly an indirect link between Mr. Barghouti and terrorist organizations."
Betzalmo CEO Shai Glick said:
"The State of Israel is a democratic and liberal state, but it must, in the name of democracy and liberalism, defend itself and its citizens. A determined struggle against the boycott constitutes true defense of the citizens of the State of Israel.
"We cannot demand from our allies in the world to prevent the entry of a boycott activist and to prevent conferences of boycott organizations, while allowing those leading BDS activists residency in Israel, giving them State benefits and a platform. We are certain that the Interior Minister and the Attorney General will act with determination and immediately revoke Mr. Barghouti's residency so he will be able to disseminate his toxic teaching only outside Israel."