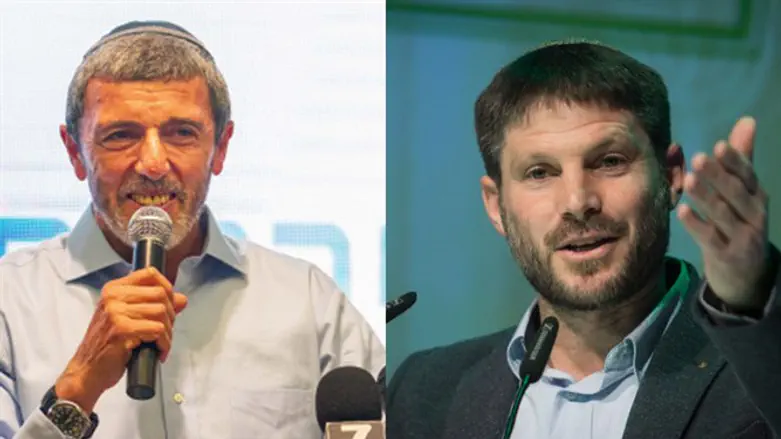 Peretz and Smotrich
Flash 90
On the background of a poll that revealed that none of the smaller right-wing parties would likely pass the electoral threshold if they ran separately, Arutz Sheva has learned that there is talk among groups and leaders in the religious Zionist public to present their political leaders with an ultimatum should they fail to agree on unification. Talks between the National Union and Jewish Home parties reached an impasse overnight.
A source said they are looking ahead to form a "safety net" in the event that Jewish Home and National Union run separately. They are weighing a mass grass-roots ultimatum, to be joined by as many groups and leaders as possible, sending a message to party leaders that "If you don't unite, we're voting Likud."
"The idea is to tell the leaders 'You represent us, and if you don't do the right thing, we won't vote for you'," the source said. "We need a safety net in case they are unable to transcend themselves and unite.
"We can't afford the leftist disaster that the loss of votes failure to unify would cause. Therefore, we'd declare, 'if you don't unify, we're voting Likud or New Right'."
A public opinion poll expert today revealed that without unification of parties twelve Knesset seats could be lost and a leftist government might arise even though there will be more votes to the Right. Another poll shows that shows 20% of haredi voters plan to back non-haredi parties.
Asked whether this was the time, during delicate negotiations, to further complicate matters for party leaders the source said, "How long will we wait for leaders wise enough to unify the right? The next generation? Is someone wiser going to come along? With another Trump in the White House? The time to unify the right in the broadest possible way is now, not tomorrow and not yesterday.
"The main point is we needn't sit passively while they bumble around; we should decide on the most credible ultimatum we can deal them and act on it."