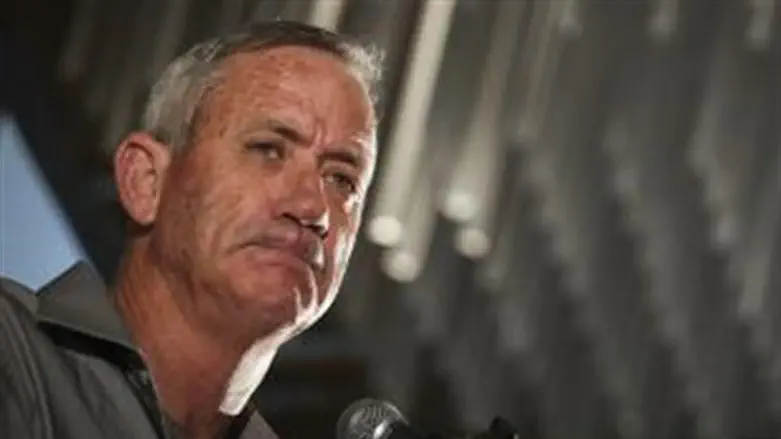 Benny Gantz
Hadas Parush, Flash 90
A close confidant to Prime Minister Netanyahu said that former IDF Chief of Staff Benny Gantz was not a threat to the ruling Likud party, hours after Gantz unveiled the name of his new political party.
"We are not worried about Gantz," said Minister of Regional Coordination Tzachi Hanegbi during an interview with Reshet Bet. Hanegbi, who is considered a senior member of Likud, added that "Netanyahu doesn't even care about him. According to the polls, he gets twice as many seats as [Gantz] does."
A Channel 10 News poll published on Tuesday found that the Likud party maintains its strength with 30 seats, with Yesh Atid behind it with 15 seats. If Gantz decides to run, his party will win 15 Knesset seats, with Likud winning 27 seats.
Ram Ben-Barak, a former deputy head of the Mossad and now a member of Yesh Atid, also dismissed Gantz's decision to join politics. "I would suggest that the generals be a little modest - politics is not the IDF. I do not know a general who went straight into the prime minister's throne," said the former spy during an interview with Army Radio.
Gantz had revealed on Thursday that his new political party will be named 'Hosen Leyisrael', or 'Israeli Resilience' ahead of the upcoming elections in April.
Gantz's new party puts an end to the mounting speculation regarding the decorated officer's political future. While Gantz was expected to throw his hat into the ring, it was unclear whether he would join an existing party or start his own.
Reports on Monday had indicated that he may not be able to form a new party in time for the April 9 elections and will be forced to join an existing party.