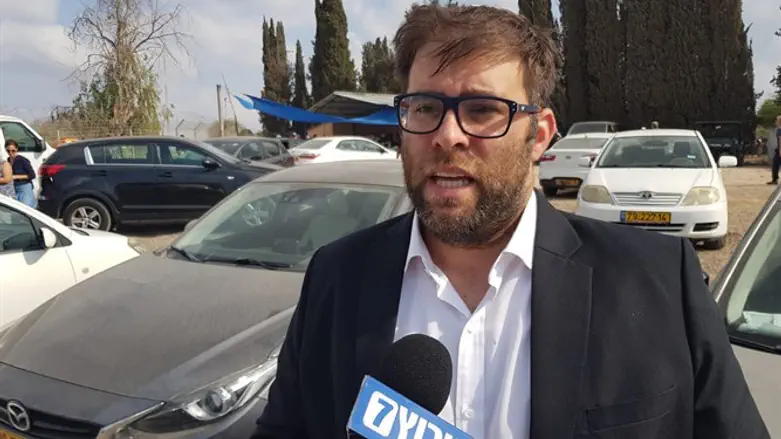 Oren Hazan
Yoni Kempinski
MK Oren Hazan (Likud) caused an uproar at the Knesset House Committee on Wednesday evening, as it prepared the law to dissolve the Knesset for its second and third readings.
Hazan called MK Penina Tamanu-Shata (Yesh Atid), who came to Israel from Ethiopia, a "token immigrant" and she fired back, "I am a proud black woman. You are contemptible. It is a disgrace that you are the face of the Likud."
"I am not offended by you," she added. "You have to be put on the spot, you are humiliating Israeli society. And if I am a 'token immigrant', then I call on the Ethiopian immigrants not to vote for the Likud."
Hazan suggested to Tamanu-Shata "do not shout, do not look for headlines," and even slammed committee chairman MK Mickey Zohar, saying, "What are you calling me to order for? She's screaming like crazy."
After the uproar, Hazan published a response in which he wrote, "Time after time, Yahir (the Hebrew word for arrogant and a play on Yesh Atid chairman Yair Lapid's name -ed.) sends his puppies to shout and slander the Likud and the prime minister. This time it was Penina Tamanu-Shata's turn to recite the empty messages of the daydreaming Lapid."
"It's only sad that after such a long time in the white party, Penina does not understand that Lapid is taking advantage of her as an immigrant, as I told her, and added that she was only a pet for him. In any case, Penina did not stop shouting and cursing me, as you see in the video, but in the headlines, as always, they lie and say that I am the one who is in the wrong," Hazan added.
Hazan has been the center of many controversies throughout the term of this Knesset. Most recently, he called MK Ilan Gilon (Meretz) "half a human being" during a heated debate in the Knesset.
He has not been afraid to confront Arab MKs over their anti-Israel actions and statements but also caused an uproar in his own party when he referred to his colleague, Knesset Speaker Yuli Edelstein, as "Stalin".
Earlier this year, the Knesset's Ethics Committee decided to distance Hazan from plenum and committee deliberations for a period of six months after five complaints were submitted against him by Knesset members from various parties.