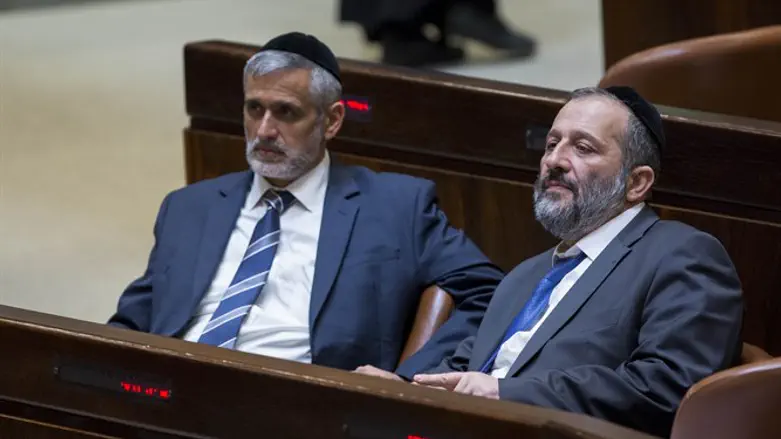 Eli Yishai, Aryeh Deri
Yonatan Sindel/Flash 90
Two years ago, during the intermediate days of Sukkot, Rabbi Yaakov son of Rabbi Shalom Cohen arrived for a holiday visit to Maran Rosh Yeshiva Rabbi Mazuz.

During the visit, Maran Rosh Yeshiva expressed his desire to bring unity to the Sephardic community and proposed a peace agreement in the form of a joint run of Shas and Yahad on the basis of a "zipper method" [equal representation of the parties].

The aim of such a proposal was to take advantage of the electorate of the Yahad party and bring as many voters as possible for a united list. Unfortunately, and despite the will of the entire Sephardic public, Aryeh Deri vehemently opposed the peace proposal and chose dispute over unity.
When you see the situation of the Shas movement in the polls as it fluctuates around the electoral threshold, the pain is even greater. The haredi public is facing a challenge - perhaps the greatest it has ever known - of a draft law that threatens the world of Torah, and it is clear that only a strong haredi representation can enact a proper law that will benefit yeshiva students.

Despite all this, Deri prefers to endanger the existence of the Shas movement, so long as the tens of thousands of Yahad voters do not have representation in the Knesset. It will not help him.

The Yahad party will run for Knesset, and with Hashem's help we will succeed. The proposal that Rabbi Yaakov Cohen received from the Maran Rosh Yeshiva is the only one that is relevant and aside from it, there will be no further attempt on our part to join Shas.