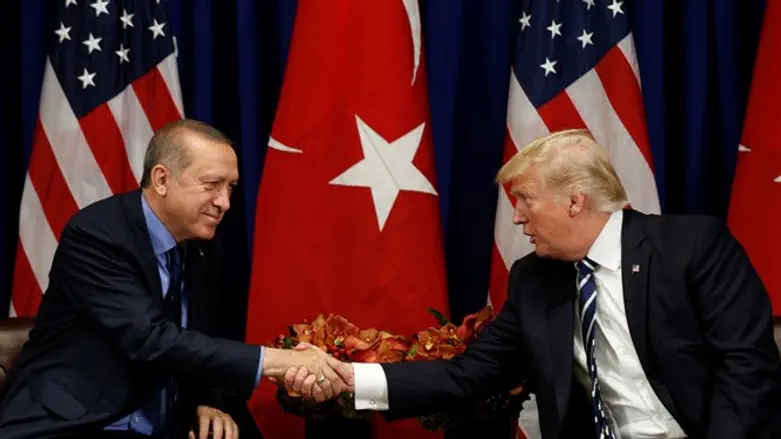 Trump and Erdogan
Reuters
Turkey will fill the void left in Syria by America's impending departure, President Donald Trump announced Monday morning, praising Turkish President Recep Tayyip Erdogan after a discussion with Erdogan on the future fight against ISIS in the war-torn country.
On Sunday night, a US defense official told CNN that the president had signed an order to begin the withdrawal of American forces deployed to Syria. The US currently has roughly 2,000 soldiers in Syria – mostly in the northeast – as part of the ongoing campaign against the ISIS terror organization.
President Trump pushed back against criticism of the move, saying that his administration had done "more damage to ISIS than all recent presidents....not even close!"
"On Syria, we were originally going to be there for three months," Trump wrote. "And that was seven years ago - we never left."
"When I became President, ISIS was going wild. Now ISIS is largely defeated and other local countries, including Turkey, should be able to easily take care of whatever remains. We're coming home!" he added.
The controversial decision was followed by the resignation of Mattis and of Brett McGurk, Trump's special envoy for the global coalition to counter ISIS.
It was later reported that President Trump spoke with Erdogan, and that he told the Turkish president that the situation in Syria was "all yours. We are done." Erdogan reportedly promised to finish off ISIS.
President Trump later confirmed the conversation with Erdogan, saying he had a "long and productive call" with Erdogan.
"I just had a long and productive call with President Erdogan of Turkey. We discussed ISIS, our mutual involvement in Syria, & the slow & highly coordinated pullout of U.S. troops from the area. After many years they are coming home. We also discussed heavily expanded Trade," Trump tweeted.
On Monday, the president praised the Turkish leader as "a man who can" defeat ISIS.
"President Erdogan of Turkey has very strongly informed me that he will eradicate whatever is left of ISIS in Syria....and he is a man who can do it plus, Turkey is right 'next door.' Our troops are coming home!"
The decision comes just hours after Israeli Prime Minister Binyamin Netanyahu accused Erdogan of being an "anti-Semitic dictator", the latest in a series of jabs between the two leaders.