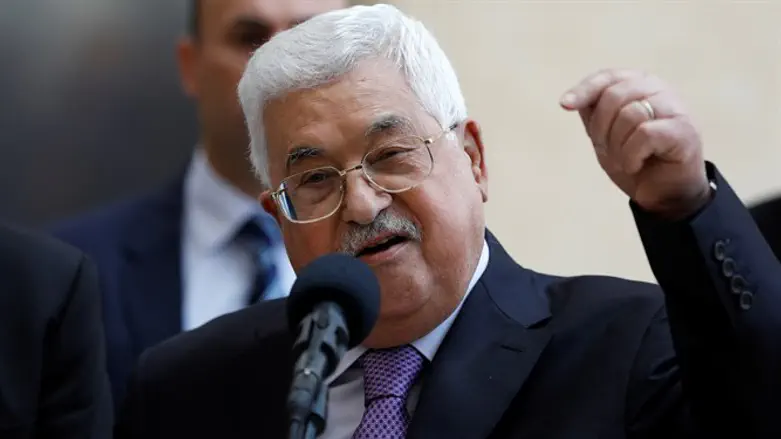 Mahmoud Abbas
Reuters
The Palestinian Authority revealed Sunday the scope of recent operations against real estate sales by Arab residents of Judea, Samaria, and Jerusalem to Jews, boasting that its security wing had managed to block the sale of thousands of dunams of land.
For years, the PA has banned the sale of real estate to Jews, and in recent years has treated the sale of land as a capital offense.
The issue gained international attention in October, after Isaam Akel, an American citizen who also carries an Israeli identity card, was taken into custody by PA security forces and held on suspicion of helping to facilitate the sale of an Arab-owned property in Jerusalem.
PA leaders denounced the sale, and similar real estate deals, as "treachery".
A PA court later sentenced two men to 15 years in prison over their attempt to sell land to Jews, while another man involved in real estate sales to Jews – Ahmad Salamah – was found dead earlier this month.
On Sunday, the Palestinian Authority revealed that it has arrested 44 suspects it claims were involved in a massive real estate sale to Jews.
According to a statement released via Facebook, the PA claimed that some 3,000 dunams (740) acres) of land around Judea, Samaria, and Jerusalem, were to have been sold to Jews. The deal was blocked, however, as part of the PA security force's ongoing efforts to prevent the sale of such property to Jews.
The deal was to have included plots of land around Hevron in Judea; eastern Jerusalem; as well as outside of Qalqiliya in western Samaria; Salfit, near the Israeli city of Ariel in central Samaria; outside of Shechem in central Samaria; and near Ramallah, north of Jerusalem.