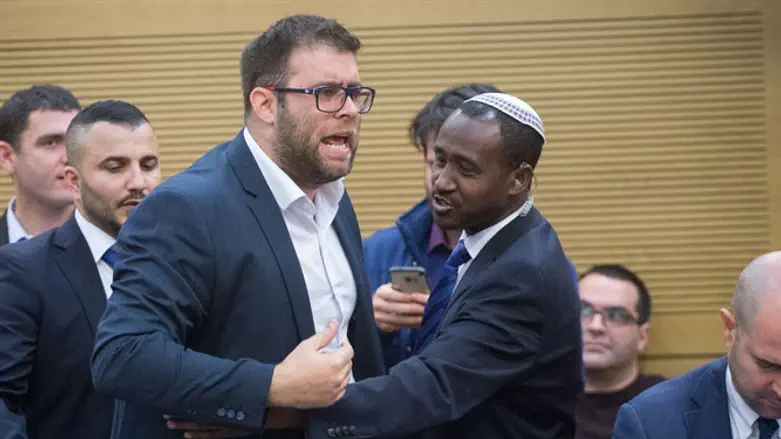 Hazan in Knesset committee
Flash 90
MK Rachel Azaria (Kulanu) shared with Ayala Hasson on 103FM the Ethics Committee's decision to suspend Knesset Member Oren Hazan and claimed Hazan threatened to end his life.
"The Ethics Committee tries not to punish MKs," MK Azaria said, "The Committee includes four members, two from the coalition and two from the opposition. It's very diverse and demands to examine whether MKs are harming the Knesset. I can say that when there are repeated incidents, such as harming Knesset Members, the committee cannot let it pass.
According to the Knesset Member, who is a partner in a coalition in which Hazan is a member, "We held a discussion on the conduct of Knesset Member Oren Hazan and we decided to punish him again. When we turned to MK Hazan to tell him he was suspended again, he became very angry and demanded to address the committee, although until then he refused to attend. He said very harsh things and made all kinds of threats against himself." When asked whether Knesset Member Hazan threatened to end his life, MK Azaria responded positively, and even claimed MK Hazan would "blame the committee members".
Rachel Azaria
Flash 90
MK Oren Hazan denied the words of MK Azariah: "There's a limit to the lies and chutzpah of the lady who spoke here. She's a liar from the Land of Liars. The Ethics Committee's supposed to be closed and isn't supposed to expose the matter to the media. I never sat with members of the Ethics Committee and told them I'd commit suicide."
According to him, "Last week a telephone conversation was held with me while I was in the hospital. The Knesset's legal advisor spoke to me and informed me of the decision to suspend me once again. I tried to understand because according to rules the committee's obliged to hear the response of a Knesset Member before making decisions and I wondered if the commission is trying to kill me or get rid of me because if that's what they want to do that's what'll happen. This attempt by Yuli Edelstein to use the Ethics Committee for political liquidation is unacceptable."
When asked if he had threatened to end to his life: "It's a lie from the Land of Lies, I have a wife, a girl, charming radio interviews, and a nation that needs me to sound its cry in the Knesset. A member of the Ethics Committee is putting out lies and then discusses my case. Enough."
Hazan poses for selfie with statue of Culture Minister Miri Regev
Flash 90