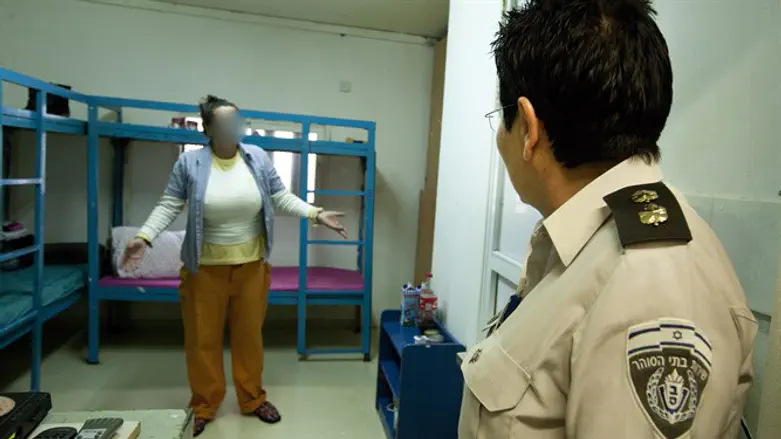 Women's prison (illustrative)
Flash 90
An young haredi woman from Netanya has been detained in military prison for ten days for evading IDF service.
According to Kol Bracha radio, the young woman was educated in Chabad institutions and now lives a haredi lifestyle.
Her mother said the daughter was arrested at the airport on her way to Paris for a family celebration. "They put handcuffs on her and took her into custody, and told us she was evading recruitment."
According to the mother, an incident occurred a few years ago involving one of her daughters that shook the family. Following the incident, her daughter was transferred to a boarding school and her spiritual level plunged. The daughter shared photos on Facebook in which she appears to be living a secular lifestyle and from which the army based its position that she is secular and therefore must enlist.
The IDF Spokesman stated "the girl filed a religious affidavit in July 2017. Following evidence that was found and presented to her indicating a false statement, the above decided to withdraw the religious declaration and after necessary procedures was placed for re-recruitment.
"Despite the waiver of the declaration, a few months later she submitted an exemption request for religious reasons. It was examined by the deputy commander of Meitav and denied, and it was decided that she must be drafted."