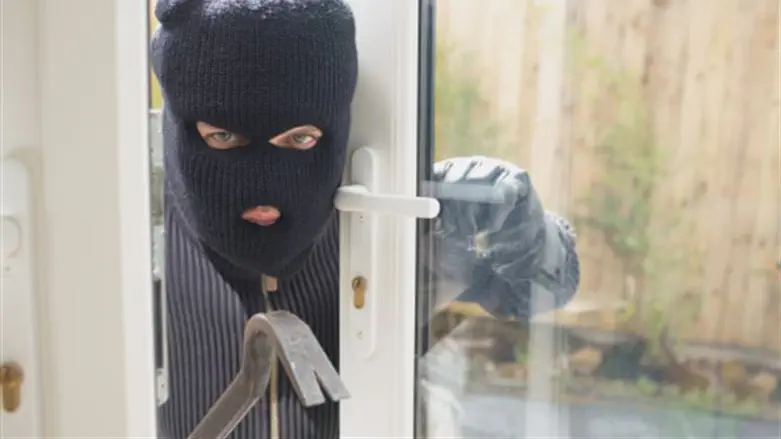 Burglar (illustration)
Thinkstock
Police in the capital arrested a burglar suspected of breaking and entering into apartments and stealing goods on Monday, thanks to a tip received from a local haredi girl.
The 12-year-old girl, a resident of Rashi Street in a predominantly haredi neighborhood in Jerusalem, was at home alone when a man entered the apartment, claiming to be a plumber who had been sent to fix several faucets.
Suspicious of the man's story, the girl phoned her parents to notify them of the strange man who had entered the apartment and claimed to be a plumber.
After receiving their daughter's call, the parents alerted Jerusalem police, who dispatched officers to the apartment.
While the suspect had fled the apartment, he was located shortly thereafter in a nearby building.
Police identified the suspect as a 47-year-old resident of the Israeli town of Maaleh Adumim, just east of Jerusalem.
At the time of his arrest, the suspect was found in possession of stolen objects, including a cell phone police say was likely stolen during the preceding burglaries.
The suspect was transferred for interrogation before being brought to court of an extension of his arrest.
In a statement, police credited the parents for preparing their child to properly handle situations involving suspicious strangers.
"The alertness of residents, and the fact that [parents] had explained to their children the need to report any suspicious person around them [to police], coupled with the rapid response of officers, led to the apprehension and arrest once again of a suspect in a criminal matter."