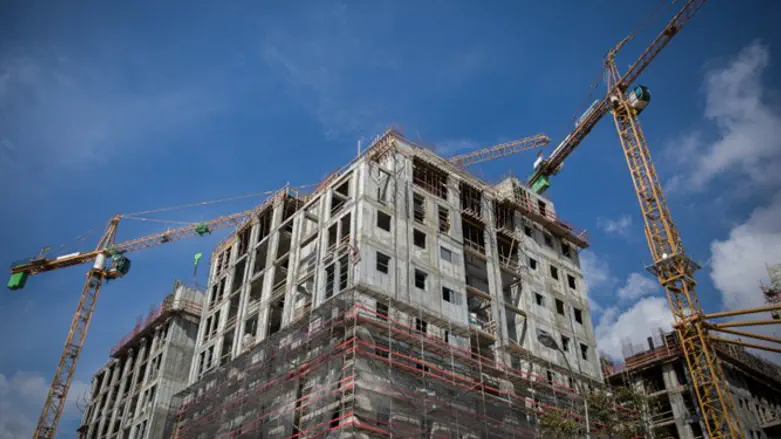 Construction in Jerusalem (archive)
Yonatan Sindel/Flash90
A year after President Donald Trump's historic address formally recognizing Jerusalem as Israel's capital and ordering the State Department to relocate the US embassy from Tel Aviv to Jerusalem, Israel is preparing a special embassy quarter in the historic city.
On Wednesday, officials from the Construction and Housing Ministry announced plans to build a complex in the capital with space for nine separate embassies.
The plan is being advanced by Construction and Housing Minister Yoav Galant (Kulanu), who instructed ministry officials to prepare for additional embassy moves, following the opening of the US embassy earlier this year.
Along with the US, Guatemala has also relocated its embassy to Jerusalem. Earlier this year, Paraguay moved its embassy to Jerusalem – only to later backtrack and relocate the embassy back to Tel Aviv.
Other countries are expected to open embassies in Jerusalem in the near future, including Honduras and the Czech Republic.
Australia, which appears set to recognize Jerusalem as Israel's capital, is also considering opening either an embassy or consular facility in the city.
Construction and Housing Ministry officials are examining the possibility of building the new embassy quarter in Jerusalem, on a plot of land in southeastern neighborhood of East Talpiot (also known as Armon HaNetziv).
The new embassy quarter is expected to include nine separate sections built across 25 acres of land.
The area will include both embassy facilities and housing for embassy staff.
Some 60,000 square meters (645,835 square feet) of building space will be included in the project, ministry officials say, with an option to expand to 80,000 square meters (861,113 square feet).
East Talpiot, where the plot of land currently being examined is located, was annexed by Israel in 1967, following the Six Day War, and sits just outside of the pre-1967 'Green Line'. The land under consideration is roughly 1.6 kilometers (one mile) west of the security fence on the eastern edge of the city.
The United Nations and most foreign ministries have not recognized Israeli sovereignty over eastern Jerusalem.
"I am convinced that many more countries will relocate their embassies to Jerusalem," said Minister Galant, "which is why I instructed experts in the Construction and Housing Ministry to come up with an appropriate solution for the embassies in the future, including construction of a special 'Embassy Quarter'."
"We are currently planning possible [embassy] complexes for other countries which are expected to move their embassies to Jerusalem. I urge the international community to relocate their embassies to Jerusalem, our eternal capital. It is the right thing to do. Make the move quickly, the best places are going to be taken quickly."