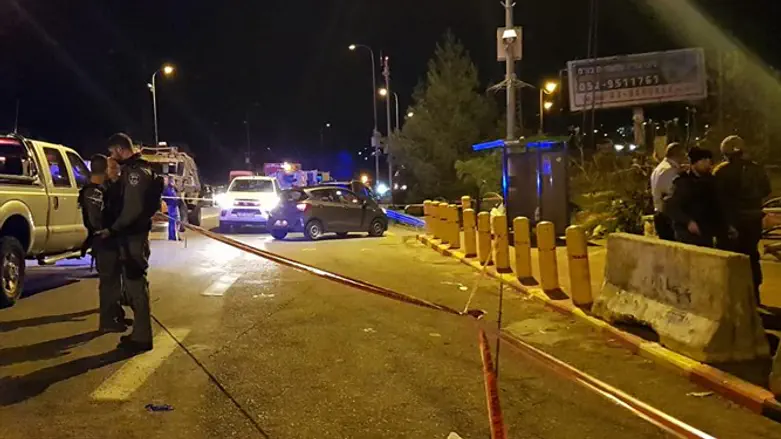 Scene of Ofra shooting attack
Inbal Reuveni/TPS
The condition of Shira Ish-Ran, the young mother wounded Sunday night in a drive-by terrorist shooting attack north of Jerusalem, continues to show signs of improvement, family members say, after she regained consciousness and was able to meet with relatives.
On Sunday night, Arab terrorists opened fire from a passing vehicle outside of the Israeli town of Ofra in Samaria.
Seven Israelis were wounded at a bus stop just outside of Ofra, including Shira Ish-Ran, 21, who was 30 weeks pregnant at the time. Shira's husband, Amichai, was also wounded in the attack.
Shira was rushed to Shaare Zedek Medical Center in Jerusalem in critical condition. Doctors performed an emergency caesarian section to deliver her baby, who remains in critical condition.
After regaining consciousness, Amichai and Shira met Tuesday for the first time since the shooting attack.
On Wednesday, family members reported that Shira's condition is continuing to improve, and that she is no longer relying on a respirator to breathe.
Shira's father, Chaim Silberstein, said that during the last meeting with her, Shira even joked with family.
The prematurely-born child's condition, however, remains critical, relatives and hospital officials said.
While relatives had initially not mentioned the child's premature birth or his ongoing medical condition, following Shira's repeated queries regarding the child, family members informed her that the infant had been delivered and was in critical condition.
During the meeting with the wounded mother, Shira told family members how her husband, Amichai, had shielded her with his body after the first shots were fired.
In an interview with Reshet, Shira's father-in-law said he had been unaware of this detail in the story, as his son had declined to mention it.
According to Shira, as related by her father-in-law, after the first shots were fired during the attack, Amichai noticed that Shira was not by his side, and when he spotted her lying on the ground, he ran over to her and shielded her with his body as the terrorists continued to fire.
When Amichai noticed that his wife had been wounded and was bleeding, he used his hands to apply pressure to the wounds to try to stem the bleeding – an action which was later revealed to be critical in slowing the loss of blood and saving her life.