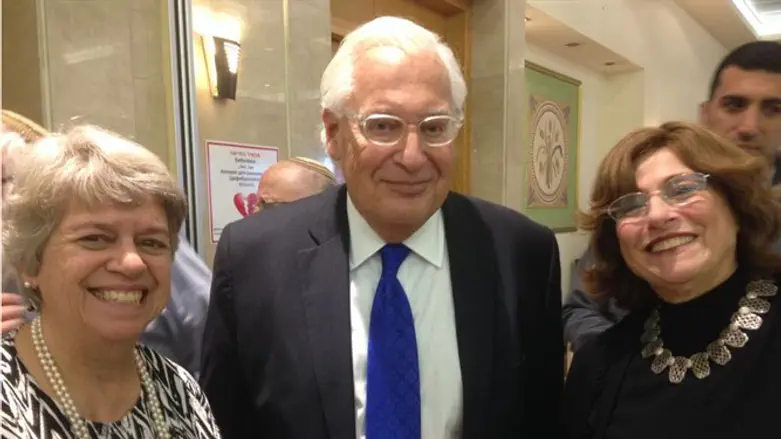 Ambassador Friedman and Luncheon co-chairs
Miriam Pomeranz
The people who filled the dining room at the Bayit Vegan Guest House for the Emunah Nava Tehilla luncheon were not told who the guest speaker was going to be, just that he was an important American figure.
Attending the event for Arutz Sheva was Op-ed Editor and former Chairperson of Israel Emunah, Rochel Sylvetsky.
Following Hatikva and words of welcome by luncheon co-chair Tami Simon and Elisheva Ansbacher, head of Emunah Jerusalem, the event began with a Torah message delivered by Rabbanit Rachelle Fraenkel, mother of Naphtali, one of the three boys kidnapped and killed barbarically by terrorists in Gush Etzion in 2014. She explained that the Talmudic school of Beit Hillel's attitude to life – and perhaps hers, although she did not say that outright - was to value every day as it comes, every day as a miracle on its own. She explained that lighting Hanukkah candles in ascending order as we do, following the decision of Beit Hillel, is an example of that philosophy, as was Rabbi Hillel's custom to enjoy each day, saying "G-d is blessed each and every day" rather than reserving that for the Sabbath.
Frieda Ross, Associate Director World Emunah, presented a moving film about Vadim, a young Russian immigrant to Israel, whose alcoholic and violent father had murdered his mother when Vadim was only three years old, and who was raised lovingly in an Emunah children's home. Vadim, who has completed his IDF service, is now married and studying engineering, and was able to visit his mother's grave in Russia for the first time, with Emunah's help, and say Kaddish for her there.
The secret guest of honor turned out to be none other than US Ambassador David Friedman, who told the smiling guests that his daughter, Talia, once worked in Emunah's El Azraki Netanya's children's home, adding jokingly, that he comes from a shteitl called Woodmere, Long Island, where Emunah has a presence, so that he feels right at home.
During the question and answer session Ambassador Friedman was kind enough to hold, he said firmly that the US is totally committed to Israel's defense, coordinates missile defense with Israel and has more anti-missile technology up its sleeve that could aid Israel if needed. In fact, he added, simulations of attacks are carried out every year with US forces stationed in Europe. Israel has never requested US ground forces, so that is not an issue.
Talking about the PA, Ambassador Friedman said that following the Embassy move to Jerusalem, polls showed that 94% of PA Arabs disapprove of the USA. However, since before that, the polls showed 90% disapproval on their part, that was not a worry – especially considering that the 90% negative rating was despite the fact that the US had showered $10 billion on the PA since Oslo.
Now, he said, except for funding for Israel's security coordination with the PA, which is good for Israel, there is no US money going to the PA – that was stopped by President Trump's actions and the Taylor Force Act. Although the US cannot stop Abbas from using money he receives to support terrorists, it has made sure that no American money is being used for that purpose.
Discussing the challenge of being US Ambassador and an observant pro-Israel Jew, the Ambassador said that he serves America first in his position, but that there is no problem because Donald Trump sees US and Israeli interests as identical.
Asked about what to do about those US Jews who are Israel-bashers, he said that Israel has to be a welcoming home for all Jews and that in the long run, he deeply believes that the truth will win.
One of the challenges the Ambassador is attempting to meet, he said, is developing hi-tech in the Israeli Arab sector. He talked about the US-sponsored conference planned for Tuesday in Nazareth, where leading Israeli hi-tech companies would be sending representatives to meet with fledgling start-up persons in the Israeli Arab sector, hoping this would be a breakthrough in changed attitudes and a larger measure of economic equality for the Arab citizens of Israel.
Ambassador Friedman was thanked warmly by luncheon co-chair Miriam Pomeranz, herself an immigrant from New York State, for his accomplishments as Ambassador as well as for agreeing to attend the event. The Ambassador then smilingly chatted with the many guests who went up to thank him on his way out of the hall.
A. Orenstein, Rabbanit Rachelle Fraenkel, M. Pomerantz, R. Sylvetsky.
Photo: Miriam Pomeranz