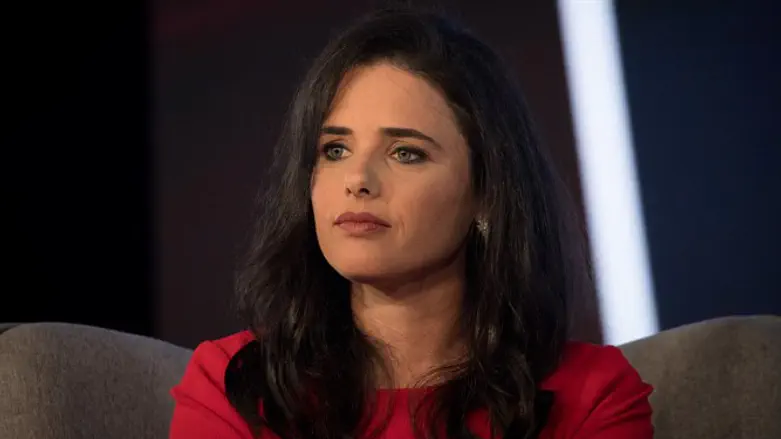 Ayelet Shaked
Flash 90
Justice Minister Ayelet Shaked (Jewish Home) urged Prime Minister Binyamin Netanyahu, who also serves as Defense Minister, to normalize the status of the Israeli town of Ofra in Samaria, following a shooting attack next to the town Sunday night.
Six people were wounded, including a pregnant woman, in the drive-by shooting attack at a bus stop just outside of Ofra Sunday night.
The terrorists fled the scene of the attack immediately afterwards, prompting IDF forces to launch a man-hunt of the surrounding area.
In the wake of the attack, Minister Shaked called on the Prime Minister to normalize the status of hundreds of homes in Ofra, which have been in legal limbo for years.
"I call on the Prime Minister to normalize [the status] of the town of Ofra," Shaked tweeted Monday morning.
"The legal opinion [on this matter] is already prepared."
Shaked called for the normalization of Ofra as a response to the attack, saying Israel needed to put a 'price on terrorism'.
"Against [Palestinian Authority chief] Abu Mazen's 'terrorism price list', we must put our own price on terror – every terror attack will lead to the strengthening of settlements, rather than their weakening, so that every potentially terrorist will know from the get-go that the strengthening of the settlements will be in his name."
First established in 1975, the town of Ofra currently includes some 700 homes. While most of the buildings were constructed decades ago, a Defense Ministry report revealed that some 500 of the 700 homes faced legal issues – despite backing from the state at the time of their construction.
Earlier this year, the Defense Ministry revealed plans to normalize the status of the roughly 500 homes in Ofra with legal issues, by circumventing the Supreme Court's freezing of the Regulation Law, which would have empowered the state to expropriate private land, with compensation, to normalize the status of existing towns.