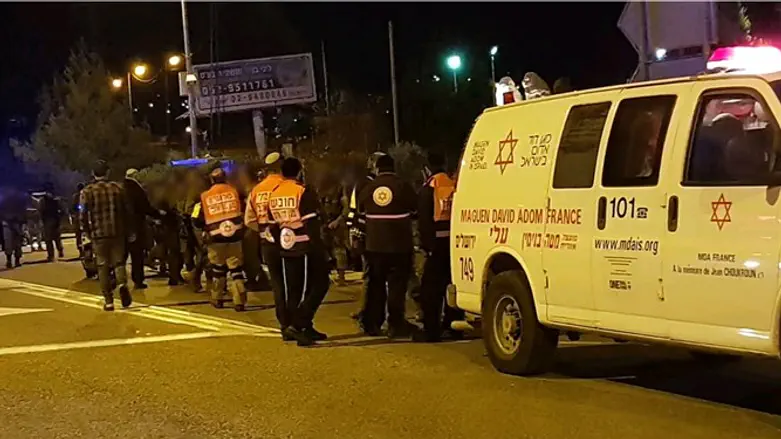 Shooting attack at the Ofra juncion
Magen David Adom spokesperson
The Hamas terrorist organization on Sunday night welcomed the shooting attack at the Ofra junction, north of Jerusalem, in which seven people were wounded, including a 21-year-old pregnant woman who is in serious condition.
"We appreciate the blessed shooting that proves that the resistance is present in the occupied West Bank despite the ongoing attempts to destroy it," Hamas said.
"This action also indicates the ability of the resistance to hurt the enemy and penetrate the fortifications of its most sensitive security sites," the group added.
IDF soldiers are continuing to search for the terrorists who carried out the shooting attack. Palestinian Arab media reported massive IDF activity in the village of Silwad, near Ofra, in the hours after the attack.
An initial investigation has revealed that the terrorists drove on Highway 60 in a white Peugeot, approached the bus stop at the entrance to Ofra and slowed down.
At this point, the terrorists opened fire at the Israelis who were standing at the station. An IDF force at the scene fired at the vehicle of the terrorists and hit the vehicle, but the terrorists managed to escape.
Doctors at the Shaare Zedek Hospital in Jerusalem on Sunday night delivered the baby of the 21-year-old woman who was seriously wounded in the shooting attack.
The baby is stable condition and has been transferred to the hospital ward for premature babies. His wounded mother is in the operating room and is still suffering from life threatening injuries.
Jason Greenblatt, the US Special Representative for International Negotiations, condemned the shooting attack and urged Palestinian Authority (PA) chairman Mahmoud Abbas to do the same.
"Absolutely Disgusting – Terrorists attack a group of Israelis celebrating Hanukkah. My prayers and thoughts are with the victims and their families. President Abbas, will you condemn the act this time??" he tweeted.
Abbas, whose PA pays salaries to terrorists and their families, has in the past refused to condemn terrorist attacks against Israelis, claiming instead that the Palestinian people "live under difficult conditions" caused by "the Israeli occupation".