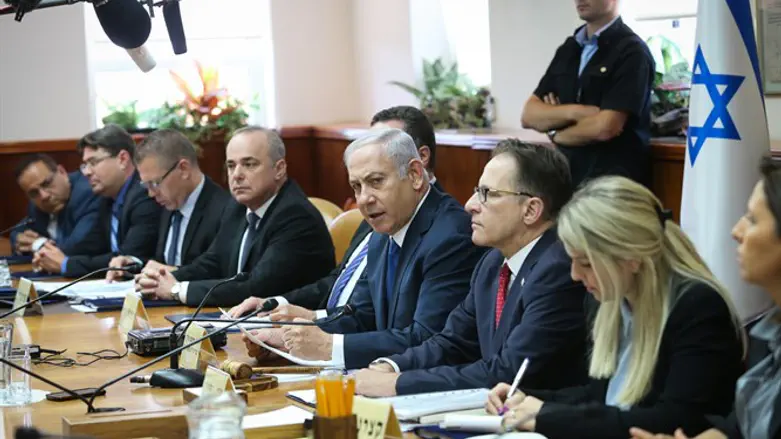 Netanyahu at cabinet meeting
Flash 90
Prime Minister Netanyahu held a series of talks with coalition leaders ahead of the preparation of a law that will require the disclosure of identities of donors to NGOs during election periods, Israel Hayom reported.

According to the report, Netanyahu received reports that left-wing activists were mobilizing for massive donations ahead of the upcoming elections. The donors are expected to transfer their donations on the order of hundreds of millions of dollars through nonprofit organizations in a joint move that will lead to Netanyahu's removal from the post of prime minister.
A source in the coalition is quoted in the paper: "For example, it is possible to register an NGO with a name like 'Zionism 2019' that will bring material against the right and against the prime minister throughout the election period. In order not to create such camouflage, the leaders of the coalition proposed a law that would reveal all the names in the donor chain of this thing. Let's say, hypothetically, if there is an ad for such an organization, they will have to write on it, 'funded by George Soros.'"
The new law will be presented as an amendment initiated by MK Yoav Kish (Likud) to the Parties Financing Law. The amendment is intended to limit the ability of organizations to conduct political campaigns during the election period, and for the first time defines an "active body in elections" for which limitations apply in accordance with the Parties Financing Law. According to the proposed law, a citizen or group of citizens who wish to carry out election activities outside a party or body affiliated with a faction shall be subject to the duty of organization and reporting, as well as restrictions on donations, in accordance with the prescribed steps.